(This blog was born from writing race reports for a masters bike racing team. What follows is of that form. It's a little longer than I like, and, therefore, as an antidote, no more than a few hundred words occur without an image.)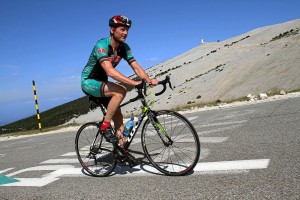 It's intriguing how experiences get burned into the brain's memory center. I still remember the sensations I had walking into Yankee and Shea Stadiums. Then, as a medical student in Connecticut, I had the same sensations when we watched the old Hartford Whalers play the Rangers in Madison Square Garden. These were cathedrals of the sports I cared about, places so rich in history that being there induced a visceral reaction–butterflies, racing heart, and a sense that life is not endless. As in, I'm glad I saw this.
Now I am a cyclist, a bike racer, and, of course, a fan of the beautiful sport of professional bike racing.
So it was that I was in Nice, France, to write and learn at a medical meeting. The city of Nice is 'close' to perhaps the holiest of cathedrals of bike racing, Mont Ventoux. I knew this, and had left an extra 48 hours in France after the meeting–just in case.
Should I go? There was plenty to see in Nice, Cannes and Monte Carlo. I hadn't made formal plans; I am a novice traveler, a bad planner and surely not the adventurous sort.
Yet, during a slow session of CardioStim, I Googled this map: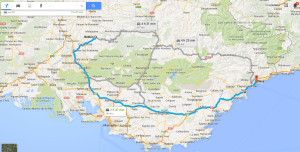 It was under three hours to the village of Bedoin. That's not that far, I thought. We often drive that distance to bike races in Ohio.
This signpost in the village acts as a magnet for cyclists/acolytes, the world over.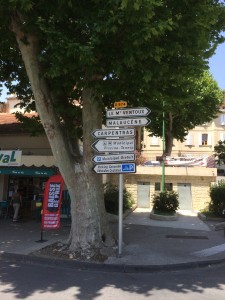 To ride Mount Ventoux, instructed many cycling blogs, one should start in Bedoin. There are other approaches to the summit, but the most famous and well-recognized route begins here: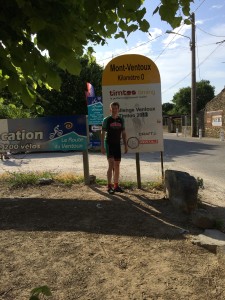 Ze plan:
It was 11 PM on a Saturday night in Nice. I was tapping away on the MacBook in my hotel room after the congress. I had the location, driving directions and the idea. (I had also brought my cycling shoes and pedals–just in case.) What I didn't have was a place to stay, a bike, or a rental car. Each of these turned out to be not so simple. Bike rental is normally quite easy in France. There are many shops that rent all levels of bikes to the masses of tourists. The problem: I was traveling to Ventoux on Sunday. And most stores in France, including bike shops, are closed on Sunday. Except this one.
Then there was the matter of getting to Bedoin and back for an early Tuesday flight home. The hotel manager in Nice mapped out a train and bus route to Bedoin. It was over 8 hours and included three transfers. That would not work. So I bused it over to the airport (15 minutes) to look for rental cars. There were lines of people but no cars. Ooh. This was bad. Then I bused it home and searched around the Internet for local rental shops. Jackpot. I found one (walking distance from the hotel) that had a car available on Sunday–and they were open at 9 AM.
It was now almost midnight. Two of three tasks were accomplished. What I needed was a place to stay. Again, my lack of planning was a problem. All the hotels in the Bedoin area were booked. (It was June after all.) Then I remembered Michael O'Riordan, my colleague at theHeart.org, had mentioned booking.com.
This led me to a tiny bed and breakfast called Lou Cardalines in the town of Sainte Colombe, which is 4 kilometers up on the Route du Mont Ventoux. They had one room left, and it was only 80 euros, less than I was paying in Nice.
I arranged to check out of the hotel in Nice for a night and then come back on Monday night for the early Tuesday flight. Sunday morning came and I was off in the Fiat rental, equipped with a Garmin that spoke English, barely. There are little things Americans take for granted when driving. The first is the matter of understanding street signs, another is having people in toll booths, or credit card readers that work. (In France, there are many places that an American credit card does not work.)
Another thing we take for granted is the blue dot on our iPhones. I got to the village of Bedoin, but could not find the bed and breakfast. It was not on the Garmin, the iPhone did not connect to the Internet, and no person I asked had heard of the small abode.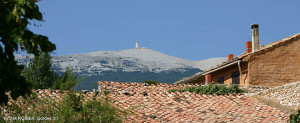 Here was where a memorable story got more memorable. I was tired, but excited. I was almost there, but not yet. I had driven the 6k between the smaller town of Flassan and Bedoin three times looking for Sainte Colombe. Finally, I called the (international) number of Lou Cardalines. No answer. Instructions were in French but I figured leaving a message after the tone would work. A few minutes later my iPhone rang and it was Eric from Lou Cardalines. We struggled to communicate but before the line went dead, I heard, "stay in Flassan." Roger that. I needed a break. So I sat in the car and took in the sites of the tiny village of Flassan. It's exactly as you see on Tour broadcasts.
Maybe 10 minutes later, a car drove up and a small French man stepped out. It was Eric! He waved for me to follow. I did, and along the way, I saw my missed turn–no, there was no sign there.
Lou Cardalines was amazing.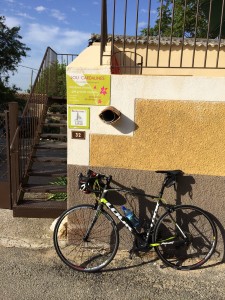 The bed and breakfast sits just a couple of small houses off the main road in Sainte Colombe. There is a community kitchen, the rooms are modern, clean, air-conditioned and importantly, the bedrooms open up to the backyard, which, with its gardens and flowers, flows seamlessly into the fields of olives and mountains in the distance. I snapped this from the window of my room.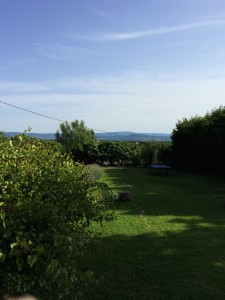 I'll come back to this lovely home in a little bit.
Let's get to the riding.
Before I got lost and then saved by Eric, I had found the bike shop in Bedoin. They rented my a Look carbon bike with Ultegra-type components. They put my pedals on, tweaked the saddle and stem height, and rented me a helmet. I was now ready. Except for three problems: It was 3:30 PM on a Sunday afternoon, I hadn't eaten since breakfast and the temperature topped 90 degrees. The cafes of Bedoin were filled with cyclists already drinking beers. Sunday was to be my bonus ride, a pre-ride of sorts. Monday morning was to be the real ascent. So, I stepped into a bakery, bought a chocolate croissant, a couple of water bottles and was off.
The first thing to say about Ventoux is that there are no flat sections or downhills. It's all up for 21 kilometers. The second thing to note is you get butterflies at the start, as if it were a race.
The road out of Bedoin starts up gradually. You begin to think this isn't too bad. You are making ground. The speedometer says 20-23 kph. At about 4K, you reach Sainte Colombe, the village of Lou Cardalines. As you leave Sainte Colombe, the road gets steeper, but it is still not awful. Then you make the left turn and see this sign: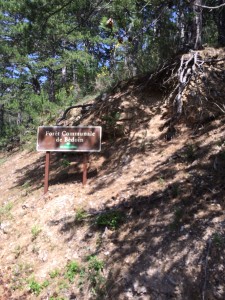 The Forest:
The forest is where Ventoux gets hard. Really, really hard. Around here in Louisville we have these hills called knobs, which are about 10-15% gradient and most of us ride them in the 39 x 23 or 25 ratios (the little gears). That's what happens in the forest. The difference is a knob goes on for 1-2k, but on Ventoux, at the start of the forest, there are still 16 more kilometers to climb. (Remember, I left at 3:30 PM; it's more than 90 degrees.)
The other thing about the road through the forest are the views–there are none. It's just a long sweeping road into the trees. It's hard to see the steepness but your grinding and mashing and slow pace tell you it's there. Every turn in the forest yields the same image: another long uphill into the trees. It's numbing, really.
As this was only my pre-ride, I did not push too hard. Of course, that's relative, because getting a 170-lb body up that gradient requires putting tension on the pedals.
Finally, after an hour or more of climbing, you see the forest begin to give way to the rocks. The gradient eases just a little. Your legs turn over, and you actually shift up a cog, which is something different, because in the last hour, you have tried shifting down to an easier gear more than a few times–an action as futile as pushing an elevator button more than once. You do it, but it's pointless.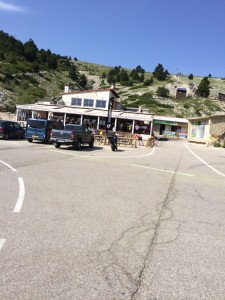 The "respite" at the end of the forest lasts only a couple of kilometers. After passing the souvenir shop at 15K, the road heads into the rocks, and wind. You can see the summit now, but that doesn't make it any easier to get there. The air is thin, the sky blue, the visibility good. This tricks the eyes into thinking the summit is near. But Ventoux is no Kentucky knob.
As you climb past the 16-17K mark, the steepness returns, and is joined by wind, altitude, and cumulative fatigue. You remember the Armstrong/Pantani duels there. With or without the drugs, it's hard to imagine racing at this point on the mountain. The better verb is outlast or out-suffer. You come to understand why watts per kilo is the simple metric that determines the Tour winner.
On that warm afternoon, there was a man at one of the corners. He said to me, in a French accent, "you have the whole mountain to yourself."
Accept…for these guys: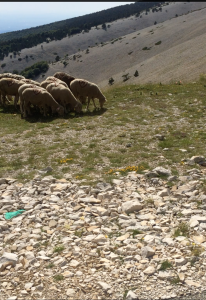 The road at the summit is grim. I accidentally snapped a black and white image. It does the vastness justice: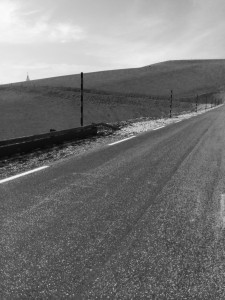 I suffered that afternoon. Here is proof: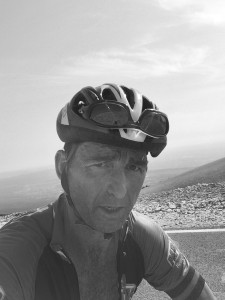 The Summit:
Something weird happened at the summit–small-world weird.
You see this guy with me in the picture?
He was one of the guys I asked to snap a photo of me. We got to talking and I learned he was Dutch. So of course I told him of my last cycling adventure in Holland–with a man from Haarlem named Remmert. Well. It just so happens that this man on the summit of a mountain in France was friends with the man from Haarlem named Remmert.
How in the world is this stuff possible? I know two people in the Netherlands and one of them is friends with a random guy I meet on top of Ventoux on a Sunday afternoon.
The descent was treacherous.
I could not safely follow the Dutch guys. They had been up the mountain three times in one day, an Ironman-like feat that enters them into the Club des Cingles. My excuses for not holding their wheel on the descent: for starters, I was shivering; it was cold at the top. Second, it was hard to descend on a rental bike. Third, there was no way I was ruining my trip with a crash.
Post ride sensations:
After the cautious descent, I arrived back at Lou Cardalines. I lounged in the garden, refreshed in the pool and was tingled all over by a cold beer and the warm Provence sun. The quiet and calm and peace felt luxurious. A French man who was sharing the room across the hall came out to say hello. His English was rusty but it was 100x better than my French. We talked, and I accepted his invitation to dine with him and his wife at one of the two restaurants in Sainte Colombe. Here: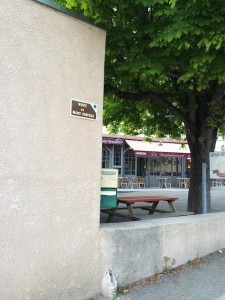 I would highly recommend this outstanding restaurant.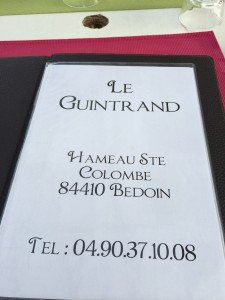 The second day on Ventoux:
After the three-hour dinner– with one cook and one waiter–I slept soundly. I awoke to sounds in the community kitchen. Coco, the wife of Eric, was cooking breakfast. She offered the guests baguettes, many homemade jams, freshly cooked French pancakes (crepes) and coffee and juice. It was the perfect prep for another crack at the giant.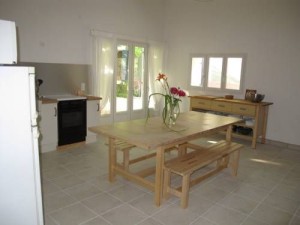 Caffeinated, fed, and rested, I was ready for the real ascent. The morning temperature was perfect, the breeze light and the route de Mont Ventoux filled with cyclists. I coasted the 4k down to the start town of Bedoin, reset my bike computer and was off. The sounds of various languages of fellow cyclists intensified the experience.
On this second ascent, my legs felt strong. Soon I was passing by Lou Cardalines at the 4k mark. I imagined the tour coming through here. How did the swarm of riders and caravans squeeze through this tiny road? A person in the houses of Sainte Colombe could almost reach out from a window and touch a passing rider.
I was riding well, passing groups and constantly talking to myself about pace. "This is not a knob, John, save your energy." From one of groups I passed came a young man who I soon learned was visiting from Belgium. He had bridged up to me and rode past. Now I had a decision. I chose to follow. It was harder than I had been going but not so terrible. Then I pulled alongside him and we chatted. It was nice to have company. We rode together for many more kilometers, mostly side-by-side as there is little draft at such slow speeds.
When I stood to pedal I would distance my Belgian friend a little. He would come back aside again and we would resume the climb together. After the forest, at about 15K, he tired and I went it alone. This time riding into the rocks and winds wasn't as bad. My legs were better, the temps moderate and the presence of people to pass helped speed the process. (Having people ahead reminded me of starting a triathlon in a later wave–it helps to have carrots.)
Still though, at this altitude the air is thin, the kilometers pass slowly and the fatigue accumulates.
Yet I made it.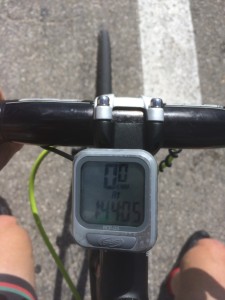 I had brought some Euros for the souvenir shop, and I am now the owner of a Mont Ventoux wind jacket, which helped a lot on the chilly descent.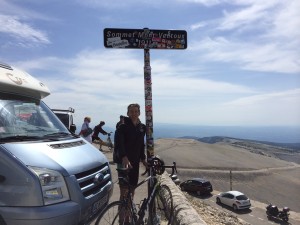 On the way down I stopped to see the Simpson memorial. Instead of flowers, people leave water bottles and cycling mementos.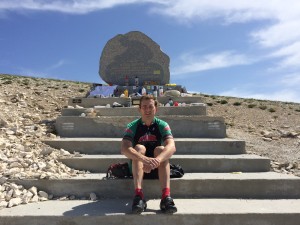 At the Lou Cardalines, I had time for a shower and to take a couple of photos. This is the owners, Eric and Coco, who were 5/5-star hosts. Coco told me Lou Cardalines has been in her family for generations.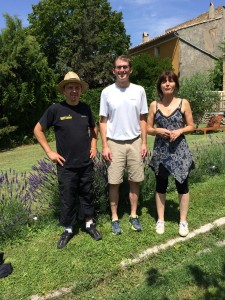 This is Roland and Odette, the kind French couple who invited me to dinner the previous night. It should be said that they had come to Bedoin for the famous farmers' market that happens there on Mondays.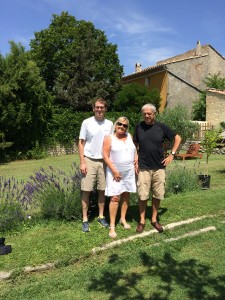 I left this beautiful village with a sense of bliss. The drive back to Nice was easy.
Early next morning, I was on a plane home.
Goodbye Nice.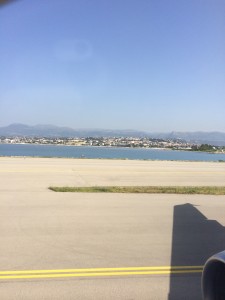 Life is short. I'm glad this visit to Ventoux came to be. And that it happened because of a blog.
JMM