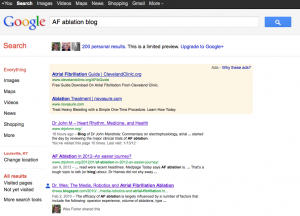 The Practice of Medicine inspires
I feel compelled to write because I am passionate about my work. For most doctors, Medicine plays out like a roller coaster—ups, downs and plenty of whooshes. It's rarely dull. Doctor writers care about their work; we want it to be better. We need to tell the stories, and hope that doing so might help others.
To educate
The motivation to educate creates a win-win for all involved. Both the student (reader) and the teacher (doctor) learn. Of course, an Internet reader has to verify, weigh and consider an author's motives and conflicts when reading a blog. But these judgments are normal when reading anything.
Remember how much you retained after giving a presentation? That's what a blog does. Without doubt, this blog has made me a more informed doctor. The problem is that the more you see, the harder medicine gets.
To better mankind
Gooey, I know. But it's true. As a whole, doctors are insanely competitive. Many of us measure our self-worth in how much we help people. In writing and publishing we aim to help in the plural.
For instance, I like to write about the paradox of being a heart doctor: Here we are every day using skills and technology to save people from a disease that could be prevented with simple lifestyle changes. As a cyclist, I have learned that success depends on making choices. It's the same for being healthy. (Of course, both cycling and health also depend a bit on luck.)
To give a look behind the curtain
One of the most famous medical bloggers, Dr. Kevin Pho, a primary care doctor and author of Kevin MD spoke of his aim to pull the curtain back…"By shining a light on physicians' frustrations that the mainstream media may ignore, perhaps we can get one step closer to resolving these issues."
A good example is writing about the unintended consequences of well-meaning policies.
To archive useful information
In the old-days, doctors penned (literally) notebooks. These exhaustive notes rarely helped anyone other than the author. My epic notes from training collect dust in a basement. Social media has transformed and expanded the usefulness of our notes.
Dr. Ves Dimov, a University of Chicago allergist likens his Casesblog to a digital notebook. He hopes his e-notes educate both doctor and patient. Dr. Mike Cadogan, author of Life in the Fast Lane says his blog allows a way to archive his thoughts.
Reading the thoughts and notebooks of real doctors seems pretty useful to me. I would have loved to read the blog of a shoulder surgeon when researching my surgery. The confusion surrounding complicated diseases (cancer and atrial fib, for example) lends itself well to candid words from those in the know.
To display our humanness
My friend, Wes Fisher uses his blog, Dr Wes, as therapy. Thus far, and hopefully far into the future, computers have not replaced humans as the best caregivers. But humans come with flaws. Though doctors seek perfection, we tire, become frustrated, make mistakes, and harbor regrets. We are you. We are human. We like therapeutic stuff too.
The intensely human experience of doctoring inspires me to write. I want to tell you about all the cool stuff. I want to tell you about the human heart. Not just the one that pumps; the one that feels, and loves and grieves.
JMM
An additional reason to blog: I did not know this when I started, but now, seven years in, I learned that writing on the Internet connects you with people across the world. Due to this blog, I have friends in Australia, Germany, Belgium, France, Canada, South America and Mexico.