Author's note: Apologies to regular readers and subscribers who expect hard-hitting medical news. What follows is a ride report, similar to the self-indulgent sort of thing you find on thousands of other cycling blogs.
—
My last full day in Holland was one that will stick in my mind for a long time. The 2013 European Society of Cardiology Congress ended with a half day. That was perfect.
It was a nifty coincidence that my one free afternoon in Holland was the same as two friendly Dutch lawyers who lived in a town called Haarlem. This story neatly fits into the it's-a-small-world category.
It turns out that a cycling friend here in Louisville has a cousin who lives in Haarlam, a man who also rides bikes. It also turns out that this man and his friend are preparing for a granfondo in Italy. They often train on Wednesday afternoon. Remmert and I were introduced by email. Plans were made for me to join them on their training ride in the Dunes along the North Sea. Could this really work?
Alas, there were hurdles to get over. I had no kit, helmet, shoes or bike. I hadn't planned to train in Holland.
No problem. Remmert came through. And my Northern Euro heritage came in handy too. Remmert had a bike, shoes (right size), helmet and 'large' kit. There's a lot of people my size in this country.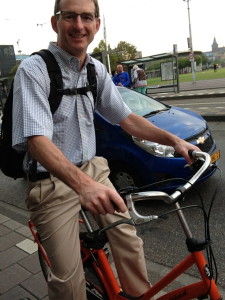 Another hurdle: I had to get to Remmert's office in Haarlem by 1330. This was serious. You have to remember, I am not so good at navigation. Really, I am a travel doofus.
I decided it was worth the challenge.
The congress closed, my story submitted, I rode the rent-a-bike to the hotel, changed clothes, got back on the rent-a-bike and drilled it to Central Station in Amsterdam. The first challenge at the station is bike parking. You cannot believe the number of bikes parked there. They have American style parking garages just for bikes. I'm thinking, how in the world will I remember where I parked this nondescript rent-a-bike. Then it came to me: take a couple of iPhone pics.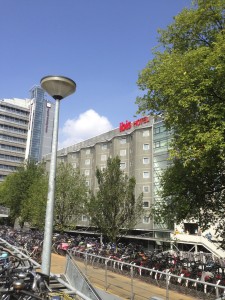 Walking into a station this big, with all the signs in a language you don't know, is daunting. Thank goodness the Dutch people are so nice. I was soon directed to the ticket counter and from there, up to platform 2. The train, a double-decker, would take me to Haarlem–about a twenty-minute ride. I sat next to an Italian women who had lived in Holland for twenty years. She filled in some details: Haarlam would be the fourth stop.
Once in Haarlem my task was to walk south to a canal, take a right and find the law firm of Remmert, the cousin of a friend, who had e-mailed me, and set me up to join them on their Wednesday training ride. With the help of an international cellphone call, we connected. It was like we knew each other. "Let's go ride," he said.
We then drove to his home, changed clothes and rode to meet his friend, Martijn (pronounced mah r t ay n).
We met at a roundabout and headed south. The winds were light for Dutch cyclists but not for a Kentuckian. The inland route south went along canals and through fields that in the Spring are filled with blooming flowers.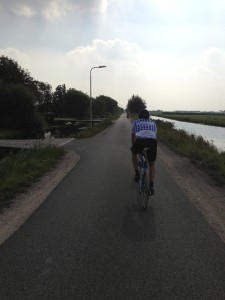 Every few kilometers, we encountered a roundabout. These things require focus. After about an hour and a half or so, I could begin to smell salt-water. The wind increased. We turned onto a road that opened to a beach. "Turn left here, shift down, it's steep," I was instructed. The steep pitch led to a beachside cafe, called Brasserie de Badmeester. What a cool store stop!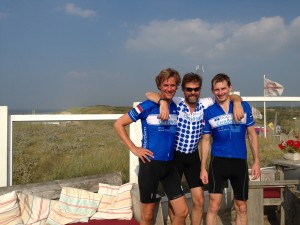 There were a few older Dutch folks enjoying the sun there. One older man appeared to be an author, a Dutch Thoreau, perhaps? He glanced over his reading glasses at us for a moment and then went right back to his pen-written manuscript. We sat for a few minutes, basked in the unseasonably warm temps, had a refreshment, and then headed back along the beach. The bike paths in the Dunes were slightly more hilly than the canals. One time, I shifted down a gear. Every few kilometers we rode through a beach town. Nice.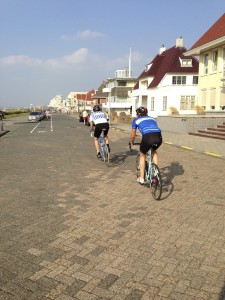 For the record, getting tensed up when being passed by another cyclist is universal. A young dude passed us aggressively, with authority, we like to say. For the next 5k, the pace quickened. I actually took a turn in the wind. After we reached the endpoint, the comment was made: "we held that young guy at the same distance." Grin. Cyclists are the same.
Martijn turned for home and Remmert and I pedaled softly back through Haarlam to his home. He asked me to stay for dinner with his family. His wife, three kids and family dog, Kara, would join us. This was amazing. I am a stranger, yet, would enjoy the hospitality as if I was a good friend. We had Heineken, fresh bread and conversation on the back patio. They even let me take a shower before dinner. His wife cooked an awesome dinner. "What is this exactly? I asked. Lamb sausage. I didn't know I liked lamb.
Here's a goofy picture of me in their front yard. Really goofy. I was tempted not to post this one, but the windmill made me do it.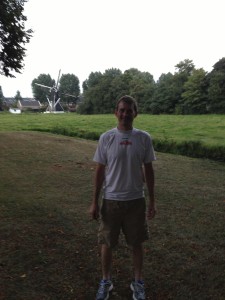 Soon it was getting dark. I had better head out. The ride from Central station to my hotel loomed large. Amsterdam is a big city, even bigger in the dark on a rent-a-bike. Truth be told, I didn't even know which neighborhood my hotel was in. As if I could pronounce it if I had.
Remmert drove me to the train station in Haarlam, and I caught the next train to Amsterdam. (BTW: It cost .50 euros to use the toilet in the train station, WTF?)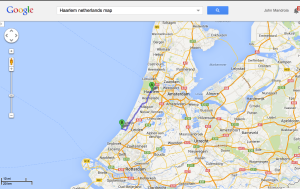 It was dark when I made it back to Central station. I found the rent-a-bike without any trouble. I hadn't noticed this before, but it came with a pedal-powered head light. I soon discovered that so did every other bike in Amsterdam. The city was streaming with bike lights. In fact, Amsterdam's cycling image may have been more spectacular at night.
South-south east was the direction I had to go. Follow the canal for a few K, then turn right. I got to the Museumplein and then asked a waitress who had come out on the sidewalk to smoke. She got me the remaining way.
What a day.
What a great Wednesday ride. About 80K round trip.
JMM