The normal number of heartbeats per minute is a frequently asked question. People, especially medical people, like well-defined lows and highs. Parameters which can be assigned an 'L' or 'H' makes life easier.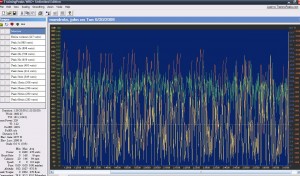 Competitive cyclists immerse themselves in a sea of information. In our quest for weekend glory, we intensely study oodles of data–minutia like speed, wattage outputs, RPMs, torque, elevation gain and of course, heart rates (highs, lows, and averages).
As a heart rhythm specialist, I am often asked to see patients referred for low or high heart rates. We are asked to be the judge for what is "normal."
The old school teaching holds that the normal resting heart rate is greater than 55 and less than 100 beats per minute (bpm). Maximal heart rates are estimated by the well known formula: 220 – your age = Max heart rate.
But the heart rate is unlike a lab value. It's far more complicated. For starters, the heart is immersed in a bath of hormones, chemical messengers, pressure sensors and neural inputs. These moment-to-moment inputs provide critical information to the natural pacemaker, which we call the sinus node. Simple example are: adrenaline release speeds the heart rate, while firing from the vagus nerve (which occurs at rest) slows the rate. But it's not that simple. Genetic factors also play a role in determining both resting and max heart rates. So does fitness and stress and temperature and a host of things.
Back to the main question: What's normal?
Similar to many other matters of medicine, the "normal" heart rate requires meshing a patient's symptoms, or lack thereof, age, history, exam and sometimes an ECG. Young people, athletic or not, may be normal in the 30 bpm range. Likewise, despite what you read in the NY Times, a resting rate in the 100 range may also be normal.
It's the same with maximal heart rates: the commonly-used formula, 220 – your age = max rate, varies by as much as 10-20%. For example, the maximum heart rate for a 30 year-old athlete may vary from 160-210 bpm. One's fitness correlates with sustainable power outputs, not maximal heart rate.
This wide range of individuality, or normal-ness, of heart rate makes it tough for patients and doctors alike. A heart rate of 40 might mean a pacemaker for some, while for another it would be normal.
Here's my normal ECG with a sinus rate of 40-something. No pacemaker for me.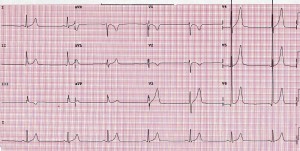 Here are four simple thoughts to consider when heart rate questions arise:
Make notes of your resting and maximal heart rates over time. Multiple measurements will give you and your doctor an individual fingerprint of sorts.
Know that there is a great deal of individual variation of the normal heart rate. Keep in mind that many medical people don't understand this great variation in heart rate. If questions arise, second opinions are always good.
Not only is heart rate variation the rule, but it also true that greater turbulence of the heart rate is a good thing.
A basic medical evaluation for an unusual heart rate is reasonable, but in the absence of symptoms or other associated medical problems, be cautious about undergoing invasive and risky medical testing.
Remember this axiom: It's hard to be make an asymptomatic person better.
What's a normal heart rate?
That's a tough one.
JMM