Shortly after starting this blog, a stranger came up to me at a cross-country meet and said that he liked my blog. Though I didn't know him, he gave me advice that I think of often.
"Use more pictures," he recommended. Then he was gone. I was left with only that advice.
With the UCI Cyclocross World's in town for the week, I have accumulated a few worthy images.
First a little set up. The men you that yours truly has been blessed with meeting are the leaders of this compelling sport. They are the pinnacle. We watch them on Sunday mornings in the winter, with the Flemish announcers turned up on high volume. We call each other during the race–mostly to discuss whether Sven can get back to the lead. (He usually does.)
We are the little league; these guys the pros. The medicine audience could imagine Atul Gawande showing up for morning rounds. The writers might envision Augusten Burroughs coming to their creative writing seminar.
Okay already. To the pics: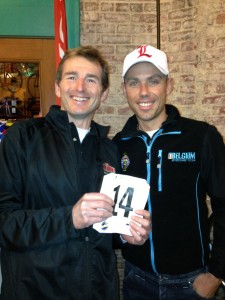 Sven Nys has been kind and generous. It's amazing getting CX advice from the man who has one won more races than any other current pro. You can talk to him.
Niels was a bit shy tonight at the Colnago reception. He's ten years the junior to Sven. Nonetheless, when I asked to get a photo with my race number he perked up a little bit, offering that the track will be muddy. I guess he is right.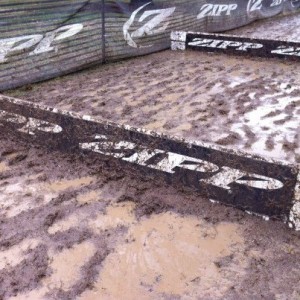 Here's a shot after finishing seventh in my heat on Tuesday: The day that I met Staci. That was a great day indeed. For the record: it was at the VA hospital, Indianapolis Ind.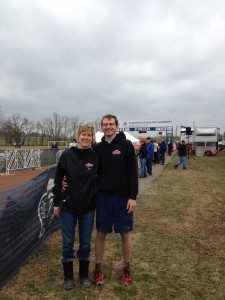 Here is one from Monday night's University of Louisville game. With Coach Rudy De Bie: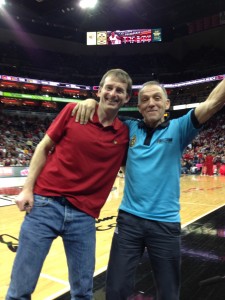 Oh and one more quote. This one came in the form of a text message from one of Louisville's strongest masters racers. Curtis Tolsen accompanied the Belgian team on a training ride. They rode a similar section of our local Tuesday Night World's course. There's this one mile climb that… well, you know, often creates a selection. Word had it that Sven unleashed some fury:
Here is a screen cap of the text exchange with CT: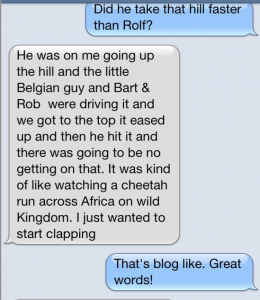 Okay, I had better get some rest before the showdown tomorrow. I go off at 0945. The computer race predictor had me coming in 15th. I earned the 14th starting position. I hope to do better, but am surely not attached to any result. I just want to enjoy the moments.
BTW: I found a cure for constipation. Sign up to race in a World Championship CX race.
#nervous
JMM