I love cycling. Being outdoors, pedaling, feeling the swoosh of the wind, these are all sensations that more people should enjoy. They are sensations of happiness. And oh, does the heart love happiness.
I also love my country. America is an amazing place. If you take a moment to really look past the mundane of everyday life, you see a country that has a lot to offer its human inhabitants. Try this for a day: put yourself in the shoes of a foreigner.
But when Americans fight cycling, I find myself in a quandary. How could a smart, compassionate and successful nation not see the benefits of cycling?
This morning, the WSJ published an essay from an Alexandria Virginia resident who bemoaned the efforts of citizens to increase the presence of bikes. Truthfully, compared to other anti-bike vitriol, this was a measured piece.
I'm not seeing it.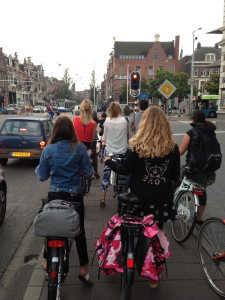 Maybe Americans don't travel enough. If they could see the difference between an American city and Amsterdam, they might feel differently. And this thought-nugget isn't just a Mandrola-ism.
The Huffington Post recently published this compelling essay that laid out why Denmark leads the way in happiness. Cycling as a way of life was cited as the fourth factor. Others were taking care of parents, health care as a right, gender priority and having a positive attitude about its harsh climate. Go figure these things lead to happiness.
I am both a driver and a cyclist. It is clearly true that both parties need to offer more compassion—concern for others—to each other. Cyclists know what aggravates drivers. They can help their cause by being considerate. Drivers also need to be mindful that their big vehicles and inattention frighten cyclists. Getting buzzed too closely sends surges of adrenaline through the body. Such is not healthy.
Urban planning could become just like medicine: When it comes to big-car culture, less is more. Promoting human-powered transportation is a win-win-win. It's good for the people, for the city and for the environment. Just ask the Northern Europeans.
JMM