Good sleep finally found me. Nine hours total. That changes everything. I missed the free bus but that was OK because I got the best cab driver ever. He drove me to the fair two days ago. His Mercedes is spotless, his English good and his willingness to teach about Greece was welcome. I shared the cab with an industry guy named Paul, from St. Paul. I'd have bet a bike the guy was from Minnesota. We also had a young women in the cab from Crete who was presenting a poster. She did not say much but insisted on paying more than her fair share. Okay.
Upon arrival I got to work on the first Late-Breaking Clinical Trial paper. These are usually the studies favored by real journalists. Since Jay Schloss was presenting, and the topic revealed good news in ICD therapy, I decided it was a good one for me to cover. I'm sick of writing less-than-joyous posts about ICDs. There were four other late breakers as well; one including a study on leaving gaps during PVI and comparing it to complete isolation. It was a weird study by many measures. I plan to take a better look at it tomorrow. There's some interesting history on this one.
After the late breakers I went to write more in the Press Room, which was more like Sparta than Athens. Time got away from me and I almost missed the most animated talk of the conference, from Dr Michael Ackerman (from Mayo Clinic). Dr. Ackerman could be considered the Supreme Court of genetic diagnosis. He's a frequent speaker and author, and gives very colorful talks. His presentation concerned 5 times when you shouldn't do a genetic test. He spoke with me for a few minutes after and agreed to send me his slide set. It's an important topic because profit-driven testing companies are hawking their wares to cardiologists far and wide. There are many issues with genetic testing, including very high signal to noise ratios. Look for a future post on that coming soon.
In the late afternoon, I went to Jay's last oral abstract on the PainFree SST trial. While his colleagues were talking, I finished up the piece on Pain-free SST. It's a great study for a couple of reasons. One is that inappropriate shock rates were driven to below 2.5% for all patients with any sort of device. That's far lower than other trials. The detection of VT/VF in these devices is accomplished with Medtronic proprietary detection algorithms. The significance of shock reduction is not just quality of life improvement, but also, most now agree that shock reduction leads to lower mortality. The post is up over at theHeart.org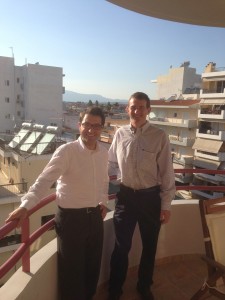 Then came the highlight of my day. My dear friend Alex Fuernkranz from Frankfort Germany met me for dinner. One of his fellows, Atanasia (spelling) who speaks Greek and Laura who speaks everything joined up with us for dinner. What a treat it was to see Alex. I feel like he was the German exchange student I never had. Even though Alex hails from one of the most famous EP labs in the world, and is widely published, he is as humble and kind as can be. Here's a pic of us on the terrace of Ata's friend's apartment.
Ata then took us to a trendy center near the Acropolis.
Here's the entire gang of electrophysiologists: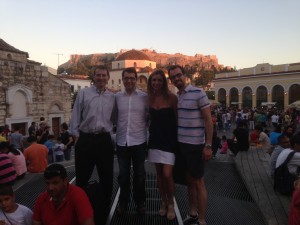 And here is the dinner wine. We insisted that Ata do all the ordering and that it be authentic Greek. This stuff comes from a special island.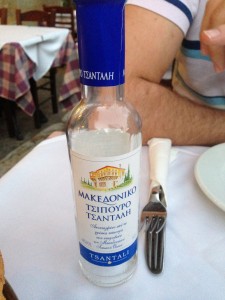 See you all tomorrow.
JMM