Hey all,
I am in Athens Greece covering the European Heart Rhythm Association meeting. It's called EuroPace 2013. I am here alone, the sole representative of theHeart.org.
My first post is up over at theHeart.org. It concerns the release of a new website for patients with atrial fibrillation called www.afibmatters.org. Truth be told, I came to the press room this morning expecting to write on technical topics, but the website release struck me as remarkable. First, it was surprising that the European Society of Cardiology did not have such a site until today. Second, you know how I feel about the importance of education in treating AF. Third, the site is beautiful on the eyes and comprehensive. AF readers here will find it useful. Finally, the site offers US patients a distinctly euro approach to treating AF. Please note the emphasis on home INR monitoring for warfarin and CHADS-VASC score for assessing stroke risk. These are two aspects of treatment in which the US needs improvement.
Click here to read my first impressions of the new website on theHeart.org.
An important caveat about posts coming out this week: they are being generated quickly so please be patient with the grammar and style. My aim is to get the info out as fast as possible. There are over 1000 papers being presented in the next 4 days.
Here is a view from my hotel window: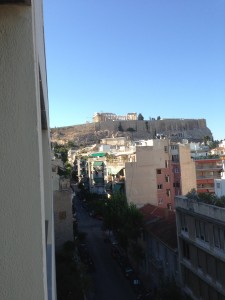 JMM