Please forgive me. I am suffering from a cyclocross hangover. It is intense. Whenever someone asks me about my race or the UCI World Championships, I feel a surge of emotion.
Simply put, watching our cycling heroes battle it out on our training ground was the most remarkable sporting event I have ever witnessed. And I have seen bunches of sports. More than I deserve for sure.
Cross Worlds was better than sitting on the floor, next to Bob Costas, for a Pacers v Utah Jazz playoff game. It was better than sitting on the glass at a Hartford Whalers game–circa Gordie Howe. (For the record, the Hartford Whalers had the best goal-celebration song ever.) CX worlds was better than watching the 2000 PGA at Valhalla, when Tiger Woods beat underdog Bob May. At age 2, I don't remember when my hometown of Windsor Locks Connecticut won the Little League World Series; but I'm guessing that was pretty special.
For me, there's one more nooget that made this weekend unforgettable. It was a matter of luck, not anything that had to do with me being a cardiologist. I happen to be friends with a very successful and generous businessman. This allowed access to the Belgian cross team. Along with a few other friends and teammates, I was able to spend some quality time with Sven Nys, Bart Wellens, Bart Aernouts, Rob Peeters and coach, Rudy De Bie. What an amazing life experience. These guys were kind, generous with their time and engaging. In multiple encounters in the week before their most important race of the year, they never once appeared pressured. Mega-stars in their country, they seemed like regular people to us. They were likable because they were real. I don't know about you, but I find grace an especially compelling trait.
Now I'm done with words. On to some images:
Here is Sven Nys talking cross with my teammate and local CX star, Erik Fagerburg. This was my favorite image of the week. Erik loves cross. While others at the party were shucking it up, Sven and Erik talked tire pressure, tactics and training. I know this because I was eavesdropping.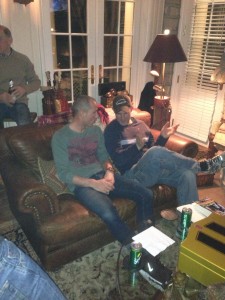 Here is the Belgian national team, with help from Texas Roadhouse and PapaJohns cycling, hoisting the fastest female palliative care doctor in the US–Staci M. The second funniest image of the week was when I introduced my wife to Sven. "Hey Sven, this is my wife Staci…She is a former state CX champion." He looked up at her readers and had a momentary look of doubt.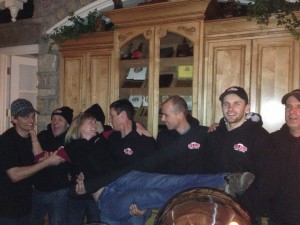 Pictured here is an unsung hero of the weekend. Workers from Metro Sewer District kept the Ohio River at bay for a few precious hours. Staci thanked him and offered her compliments to the sewer peeps. This guy asked her to repeat the complement on video so that he could have a permanent record of someone saying something nice about MSD. (You thank your sewer workers, don't you?)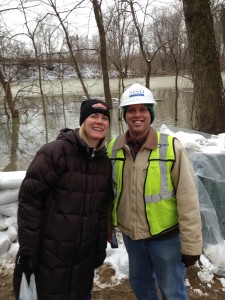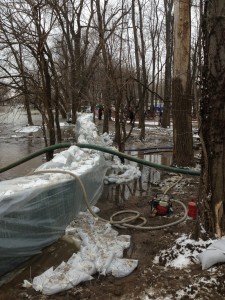 This is Justin. He fell for the "I am a cardiologist" line.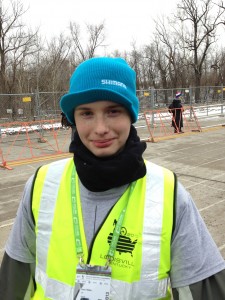 This meant we were allowed to be this close to the guys in the start grid: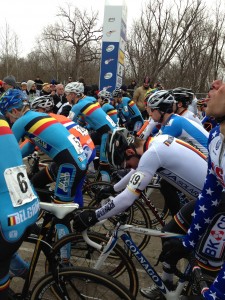 Of course, a wanna-be journalist notes the real pros: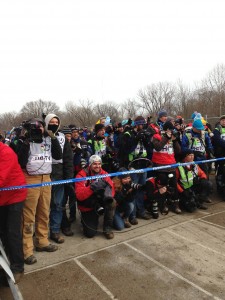 And now for professionally done video: (It's really good. Use the full-screen option.)
2013 UCI World Cyclocross Championships from Gizmo Pictures on Vimeo.
JMM