Hi all,
I'm going to take my own advice tonight. I've got an early meeting and some big cases to do tomorrow.
Good sleep forms one of the four legs of the table of health. Plus, it feels so good. Seriously, try it some time. It's a potent anti-inflammation elixir.
I'll leave with you this visual nooget from our Wednesday cross practice–the site of the 2013 Cyclocross World Championships and this Sunday's Ohio Valley CX showdown, Storm Eva Bandman.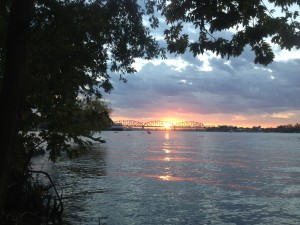 (Photo credit: local fast-twitcher, Ray Smith @raybob4321)
Though Kentucky is famous for its event in May, October brings far better weather for riding.
Goodnight cyclo-crossers.
Goodnight bloggers.
Goodnight doctors.
Goodnight all.
JMM