What could competitive athletes teach a group of heart rhythm specialists?
Cyclists, runners and yes, even triathletes, know something that we wizards too often forget. I'll tell you what it is in good time. Keep reading.
I just returned from a giant gathering of heart rhythm doctors. It was, as all national meetings are, an incredible learning experience. You come back motivated and ready for action. (The cycling equivalent would be watching tapes of Paris-Roubaix before a big crit. For tri-peeps, think of the Dave Scott/Mark Allen duel in Kona. Seriously, that was an epic battle of inflammation.)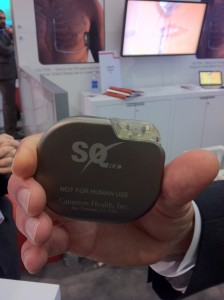 My Heart Rhythm Society really knows how to put on a show. They recruit wonderful speakers, accept exciting scientific papers and hold too-numerous-to-count practical sessions for us regular docs. And…as an industry-intensive specialty, all the latest innovative technology is available for hands-on exploration. Just walk up to a booth and in seconds you are holding a futuristic ICD—one without leads in blood vessels!
But for all the glitz, I continue to be disappointed in the lack of interest in my passion—the advocacy of healthy living through good choices. Athletes understand this well, but us tech-heavy doctors, not so much.
I found not one abstract, poster or oral presentation on the importance of fitness, healthy lifestyle and what smart people like to call primordial prevention. Heart rhythm doctors crave news about burning, installing and medicating a disease that's already happened. It's ironic that much of what I treat day in and day out may have been prevented.
An athlete wouldn't think about not exercising every day. You punish yourself for eating a cookie. You like sleep because it makes for better muscle recovery. Some athletes even have rules about drinking Coke: I've heard nutjob cyclists who allow themselves a cold Coke only when two criteria are met: after a hard-fought bike race or after a three-hour training ride.
Lots of small choices pay big dividends.
I saw this patient recently (a former athlete gone soft with birthdays) who has been introduced to middle age by the new onset of atrial fibrillation. I saw her for consideration of catheter ablation. Really? That fast? Not in my practice. My patients get the lecture before this: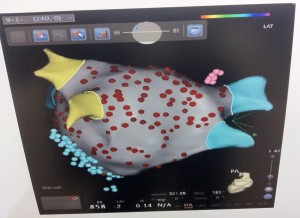 She has done well managing her disease: she cut down on caffeine and alcohol, improved her sleep hygiene, carved out time for exercise and now focuses on avoiding last-minute cram sessions for projects. Her arrhythmia has improved without medicines and based on these good choices, an invasive procedure was wiped off the table. Granted, it doesn't always work this nicely. But sometimes it does. This blawger's opinion is that doctors too often underestimate the value of athletic lifestyle choices. Rather, we do the easy and evidence-based thing: pull out the prescription pad or recommend procedures.
Imagine the effects on public health if young people implemented this patient's strategy. Remember, the same behaviors that prevent atrial fibrillation also lower blood pressure, control blood sugar, modulate cholesterol, improve cognition, prevent cancer and even help the environment. It's a tired analogy to invoke auto maintenance; but it's true. Electrical disorders frequently result from years of poor body maintenance.
Though we heart rhythm doctors bask in technology and worship engineering prowess, we must remember that we are still doctors. We have the capital to influence our patients' decisions. We aren't their moms, but we can be their teachers.

Athletes do the little things. They know the benefits of good preparation and long-term maintenance of the only body they will ever have. As an athletic doctor, I want to teach my patients that. I want to write about it. I love technology, and the fury of medicine, but I also love it when I don't have to use it.
JMM