The safety of AF ablation depends greatly on the adequacy of blood thinning. AF ablation is no cardioversion.
The choices of blood thinning regimens include either warfarin or dabigatran (Pradaxa)–and soon perhaps rivaroxaban or apixaban. The advantages of warfarin include the ability to confirm the level of thinness and its long-acting properties lessen after-procedure gaps when a patient has no blood thinner on board.
On the other hand, contrary to mass media reports, thousands of AF patients are taking dabigatran without any issues. When these patients come for ablation, a decision has to be made: do they switch over to warfarin (and risk the volatility of the switch) or do they stay on dabigatran.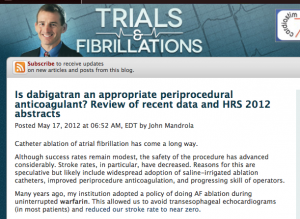 This choice represents a great debate in electrophysiology. It sure would be easier to keep dabigatran-treated patients on the drug before ablation procedures. But it's not only just the convenience; dabigatran's success or failure around the time of an AF ablation speaks to its prowess as a blood-thinner. If it can protect patients in such a thrombogenic (clot-risk) procedure as left atrial ablation, well then, that says something about the drug.
Going into the Heart Rhythm sessions last week, the prevailing wisdom held that warfarin was the better choice for patients set to have AF ablation. The negativity of dabigatran stemmed from only one trial. The eminent authors of this trial voiced strong negative opinions on dabigatran. I read the paper and was less negative, but I'm far less eminent.
At last week's HRS sessions, there were eight abstracts on dabigatran as a periprocedure blood thinner, and six of the eight directly compared dabigatran with warfarin.
In my most recent Trials and Fibrillations post over at theHeart.org, I summarized the pre-HRS trials, the eight abstracts presented at HRS and then even add a little "Mandrola" statistics on the summation of the six comparison studies.
Though the post is a tad long, I believe it encompasses most of the known evidence base on this important and increasingly frequent conundrum.
Head over to see how it ended up.
Keep in mind that this hot topic will likely grow hotter as more AF patients pursue treatment with non-warfarin blood thinners, like rivaroxaban and apixaban.
JMM