I worry about the coronavirus. It's already killed more than 100,000 Americans. The recent protests have created a nerve-wracking public-health situation for the next weeks.
I really worry about racism. Not only racism in police systems but more systemic racism in our culture.
My friend Dr. Andrew Foy sent me this slide and post showing the large disparity in black and hispanic representation in medical education.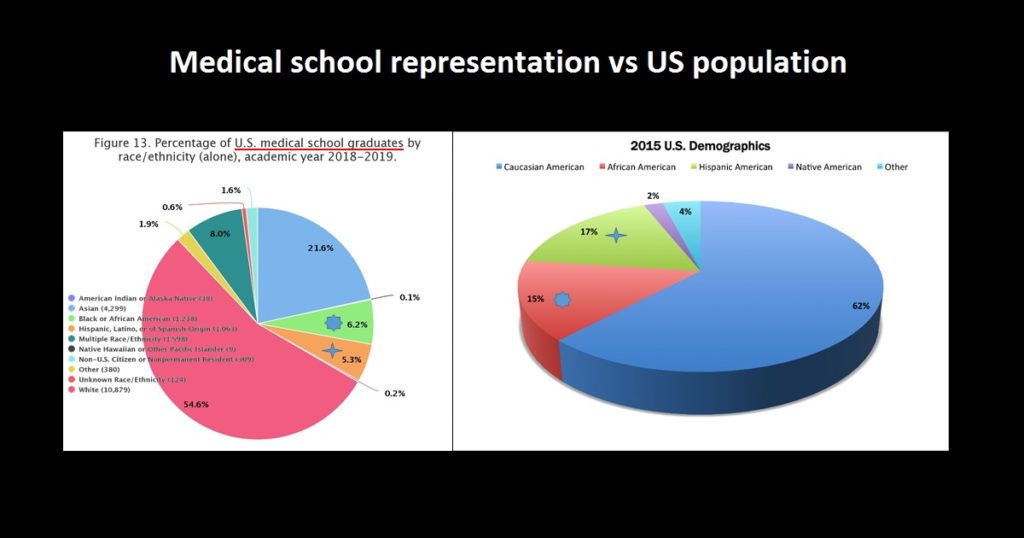 There can be no rest so long as a man like Dr. Otis Brawley, a distinguished professor of medicine,
"can get thrown to the ground, handcuffed and questioned at gunpoint for looking suspicious in a nice part of Montgomery County. That would be yours truly a few years ago.
My real offense: standing in the garage of my own home."
****
But I think there may be another great threat to this country.
Last night I read a story describing a situation in which the writer Andrew Sullivan would not be allowed to publish his column on the protests in the New York Magazine.
Sullivan is not just forbidden from writing for the New York magazine about the riots; his contract means he cannot write on the topic for another publication.
From Wikipedia: Andrew Sullivan is an openly gay Roman Catholic conservative intellectual. He has voted for Bill Clinton, and endorsed Barak Obama. And in 2006, Sullivan was named as an LGBT History Month icon.
The reason I am writing here is that my colleague in cardiology Usman Qayyum asked ….with so many problems right now, how is this important?
This is important because it indicates what could become a dangerous problem: the fall of classic liberalism.
If a sane calm intellectual like Andrew Sullivan can be silenced, what does that say for others?
Then there was the civil war within the NYT about the Tom Cotton editorial. I disagree strongly with the Senator's view, but as a leading senator, should he not be allowed to make his argument?
Intolerance of ideas also extends into science:
Liz Neporent, the social media director at Medscape, had an important story on how YouTube initially removed a video on coronavirus from British oncologist and former chief of The WHO for violating guidelines. Initial efforts to have the video reinstated failed. It took more intervention from Medscape Medical News to get it put back up.
What was the problem? The scientist dared to express a view of the coronavirus that ran counter to the prevailing "consensus." As if there could be any consensus with a months-old novel virus.
Hospital-employed doctors and nurses have grown used to not speaking publicly on anything contentious. So have many corporate workers.
But when this degree of illiberalism reaches the opinion pages of media, college campuses or social medial platforms, we have a big problem.
The obvious issue with deplatforming an idea is that if it can't be debated, it cannot be proven wrong.
The late Christopher Hitchens, who we dearly miss now, once said or wrote: "time spent in argument is hardly ever time wasted."
If the opposition to the current authoritarian regime, one that seeks to divide us, is an illiberal group that does not tolerate free public debate, I think we should be very worried.
JMM
P.S. After a thoughtful online discussion with Professor Alok Khorana, I have changed my choice of words in the seventh and eleventh paragraphs.
In the seventh paragraph, I changed the wording from 'even greater ' to 'another' to define a threat to our country. In the eleventh paragraph, I changed 'what could become a much more dangerous problem' to 'what could become a dangerous problem.'
By expressing my concern over the intolerance of ideas in policy and science, I did not intend to minimize racism.
P.P.S: Another edit. I cut the line "As a doctor, I am always looking for upstream causes of bad things." I did not mean to imply the intolerance of ideas caused systemic racism.