Last night my Twitter stream lit up with the news that NHL player Rich Peverley collapsed from a heart arrhythmia. Fortunately, he was successfully treated, and is reported to be in good condition.
Here is a link to the best story I could find. It sounds awfully significant.
[Dr.] Salazar said of the treatment, "We provided oxygen for him. We started an IV. We did chest compressions on him and defibrillated him, provided some electricity to bring a rhythm back to his heart, and that was successful with one attempt, which is very reassuring."
A couple of things to clarify about this matter. First, cardiac arrest is different from heart attack. The term "heart attack" is used to mean myocardial infarction. This more common scenario occurs when a blood vessel, called a coronary artery, on the outside of the heart becomes blocked, usually with clot. The obstruction leads first to starvation of downstream heart muscle (ischemia), then, if not reversed within 90 minutes, death of the downstream heart muscle (infarction). Sometimes an abrupt loss of nutrients to the heart can cause electrical instability and ventricular (not atrial) fibrillation. So some heart attacks can cause cardiac arrest.
This is not likely what happened to Mr. Peverley. Previous reports tell us that Mr. Peverley had been treated for heart rhythm problems in the preseason. A video taken during the game last night seems to show he collapsed abruptly on the bench. Given his young age and prior history, it is likely he had a "primary" electrical disorder of some sort.
Remember the break point on age. Athletes over the age of 35 who suffer cardiac arrest usually do so because of blockage of an artery. Athletes under the age of 35 with cardiac arrest usually have heart muscle disease, such as hypertrophic cardiomyopathy or right ventricular dysplasia, or they have electrical disease, such as long QT syndrome. (The caveat here is what's called an anomalous coronary artery–the Pete Maravich cause of death.)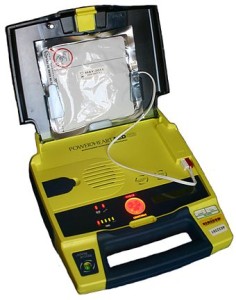 The most important point about the Peverley story is that he survived not because of anything that was done before the event, (e.g. ECG screening) but rather by early resuscitation and early defibrillation with an AED.
I can't stress the point of early intervention enough. This group of researchers from France found major regional disparities in survival from cardiac arrest. The authors concluded: "SCA [Sudden Cardiac Arrest] cases from regions with the highest levels of bystander resuscitation had the best survival rates to hospital admission and discharge."
It is not hard to learn how to help others survive cardiac arrest. Last November at the AHA meeting, I did this report on how a one-minute video could save lives.
My colleague Dr. William Dillon (@wmdillion) is leading a local effort here in Louisville to improve our city's dismal survival rate from cardiac arrest. It's going to be about education of fellow human beings. One of the most interesting stats Dr. Dillon promotes is that those who learn CPR techniques are most likely to use them on a loved one.
Heart disease is the leading cause of death in the US. Treatment wise, early and effective intervention for cardiac arrest is low-hanging fruit.
One can hope that increased efforts in public education and AED availability will make successes like Mr. Peverley's more common.
JMM