I ran up the hill. It seemed shorter, and less steep than I had remembered. I was barely winded at the top.
I looked into the front office windows as I ran by the old high school. I don't run fast anymore, yet the image was gone in seconds. My memory had the building as vast. It was not. I had learned that both my assistant principals had died—Alzheimer's and heart attack. Perhaps the years of inflammation exacted its toll? Where was the guidance counselor who had made it clear that medical school was a bridge too far? My math teacher, I learned, was still alive. Gosh that man helped me. (That remains large.)
I ran by my childhood home on Center St. My grandparents' home is next door, on the same lot. Thirty years had passed. The colors, the yards, the driveways, the woods in back, looked the same. I slowed to a walk. Should I knock and say hello? No. I think not. That would be a lot. Memories of mom in the kitchen. Yes, definitely, that would be too much. The thought of two unrelated families living on that one lot with two houses was strange. Do they not run from house to house? Not even on Thanksgiving or Christmas?
Thirty seconds later, I ran through the park of my childhood. The swimming pool was filled with snow, the pavilion boarded up for the winter, the baseball fields still encircled with short fences. It all seemed preserved, perhaps by the canopy of oak trees. But only the oak trees seemed as big. My mind had it as a big park. It was not.
Then I ran down Chestnut Street, past Grove and Oak Streets, to Spring Street, where the church was. St. Mary's used to seem massive, with its big steps and big doors and big stained glass windows. Now all I saw was a small church, in a small town, on a very small Spring Street.
I ran through downtown, along the canal, where the skeleton of a train station showed its broken windows and atrophied platform. There was a chain donut shop, a chain pharmacy and some parking lots. The bars, restaurants, grocery, and family-owned pharmacies were gone. The girl in the donut shop said she went to my old high school. "The education was there, but most kids didn't use it," she said. Had that changed?
The run around town lasted only an hour. Sixty minutes, that's it. Thirty years, that's it.
Then the funeral.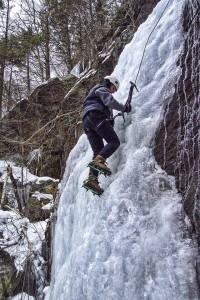 My cousin Lisa was one four-year block of high school ahead of me. She was just old enough to have been our babysitter, then, later in life, a friend to share a drink with at family gatherings.
Lots of people are said to have lived life on their own terms. Lisa really did. She dedicated herself to the social needs of children who were born into this world with less fortune. She climbed mountains, spoke freely and thought a lot. I liked Lisa. She was good with herself. And that made her easy to be around. She didn't mean to be, but that she was a teacher of sorts.
It was cancer, and its treatment, that took Lisa.
The death of a cousin and a friend brought me home after decades.
I don't know about you, but for me, this weekend's experience gets me thinking about perspective. Through the lens of a visit home and a funeral of a young person, many things look smaller. The town looks smaller. Life looks smaller.
One thing, however, looks bigger.
The present. Yes. Indeed. The present moment seems big.
JMM