Professional hockey player Rich Peverley gave a news conference today in which he and his medical team announced surprising details about his heart condition.
We learned that atrial fibrillation and its treatment featured prominently in his collapse during a game earlier this week.
"A flare-up last week led Peverley to skip a road game, and he had upped his medicine."
Here is an email I received from another journalist:
"They're saying he was diagnosed with atrial fibrillation when he was traded in the offseason and went for a physical. The procedure was that they "shocked" his heart. The plan was to do an ablation but they wanted to wait until the offseason because of the amount of time he would miss. They said the plan was made in conjunction with Peverley himself, his agent, the team and the team medical staff. The procedure was performed at the Cleveland Clinic.

They said it only took 14 seconds before they began the medical response, which they had planned for. They think on Monday he was somewhere between atrial fibrillation and atrial flutter when they shocked him."
That last sentence is tough to understand. In twenty years of practice, I have seen only two possible ways a healthy patient (without WPW) could collapse from AF or atrial flutter. One is 1:1 flutter from a Type Ic drug (flecainide or propafenone); the other is polymorphic VT (torsades de pointes) from a Type III drug (sotalol, dronedarone, dofetilide or amiodarone). In this case I favor the former. The teaching point is that he likely suffered a pro-arrhythmia from an AF drug.
Earlier this month I posted this picture of 1:1 flutter recorded from a patient taking propafenone. At over 250 beats per minute, you can see how it might cause collapse.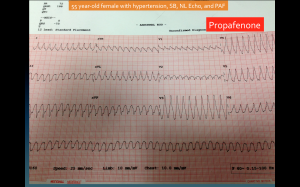 This news sheds light on the ongoing debate concerning the treatment of atrial fibrillation, especially in athletes.
It also strengthens my thesis that one of the greatest dangers faced by AF patients is AF treatment.
This story has direct implications about what should (or could) be first-line treatment for AF. Should patients with AF have to fail medical therapy before having catheter ablation? There are skeptics who question the use of AF ablation. They point to the procedure's significant risks, invasive nature, modest success rates, thin evidence base and big costs. These are all appropriate concerns. But make no mistake: AF drugs are not exactly benign either.
I'm working on more of the (teaching) details, so stay tuned.
My aim is not to invade the privacy of Mr. Peverley. I think we can work with what he and his team have released thus far to form a narrative that will inform both patients and doctors.
That said, this is really good news for Mr. Peverley. Suffering a complication of AF treatment is far better than having a primary ventricular arrhythmia or heart muscle disease (cardiomyopathy).
And this too: the diagnostic details of what may have caused his collapse does not diminish the benefit of early intervention by bystanders. Quick and effective response to those who collapse from heart rhythm disturbances remains an important public health matter.
JMM