The treatment of atrial fibrillation continues to encompass a greater percentage of my practice. Sometimes I feel less like a cardiologist and more like an afib-ologist. The persistently rapid growth of this disease in our population boggles my mind. Really folks, this is not hyperbole; this is fact.
Like all things cardiac, the focus is on treatment. Heart doctors fix stuff. Someday, way off in the future, when things have completely run amok, the voices of prevention, of lifestyle choices, will reach over the drone of ablation and medicines and cryo-balloons. For now though, few experts suggest connecting the parallel rises of inflammation, pessimism and over-scheduling with the disease of AF.
To treatment…
Last month, AF ablation made the lead article in the New England Journal of Medicine. That's big.
It was time, then, to put together another summary of where we are in the real world of AF ablation. The big picture here is that as the procedure gets shorter, safer and perhaps more effective, it will be offered earlier in the disease. This is a good thing because we know AF is a progressive disease, which grows harder to treat in more advanced stages.
Here is my summary of the NEJM study and Ten facts about catheter ablation of atrial fibrillation in 2012.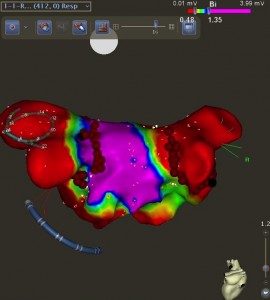 Here is a voltage map from a recent ablation of AF. The idea is to electrically isolate the pulmonary vein regions of the left atrium. Red means low voltage. The 3-dimensional mapping systems we use to locate the burns are marvels of engineering.
JMM