(What follows is a brief introduction for a post I wrote over at Medscape/Cardiology. The link is at the bottom of the page.)Â 
It is appropriate to worry about medical errors and patient safety. Here the low-hanging fruit is plentiful: antibiotic stewardship, automated notification of drug interactions and attention to hand washing all join a long list of easy problems to address. I'm going to tell you about a more pressing and difficult-to-fix safety issue, one that flies below the radar, virtually unnoticed.
It is the metastasis of the expert clinical guideline.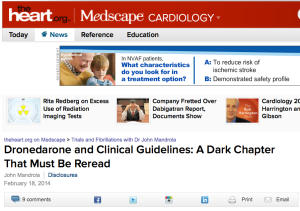 I am very concerned about clinical guidelines. You should be too.
These guidelines, which exist for hundreds of disease states, were set out to help busy practitioners provide the most evidence-based care for their patients. Guidelines were supposed to offer guidance, but now they have morphed into de facto rules upon which quality officers determine good doctoring and malpractice juries determine right from wrong. As if the practice of medicine could ever be that binary. Hubris is a bite that stings—especially when it comes to medical care.
What if said "rules" are flawed? What if these supposedly unbiased expert assessments of the evidence were not so unbiased and not so expert?
Could there be a more fundamental patient safety issue?
Now to dronedarone (Multaq).
What does it say if a drug like dronedarone (Multaq) could be featured so prominently in one of the most important clinical guidelines in cardiology–the AF treatment guidelines?
A group of Italian investigators asked this very question.(1)Â  They systematically looked at the evidence for dronedarone and then the quality of the AF guideline recommendations. Essentially, this research team graded the graders.
What they found was sobering: dronedarone lacked compelling evidence for efficacy and safety, and, AF treatment guidelines fell short in 5 of 8 Institute of Medicine-directed quality measures. Perhaps the most troubling problem with the guideline process was that many of the 'expert' writers had strong financial ties to pharma.
What worries me most about this story is not dronedarone as a drug. It joins a long list of lousy anti-arrhythmic drugs. The real problem here is the larger story about the quality and reliability of expert guidelines. This is no small thing.
Guidelines create fear in caregivers; we become afraid to go against experts. Judgement loses out to protocol. A group of Colorado researchers showed that "cardiologists' desire to adhere to published guidelines appears to inhibit shared decision-making."(2)
When it comes to receiving healthcare in 2014, shared and fully informed decision-making is everything.
Click here to read my full post over at theHeart.org Medscape/Cardiology.
JMM
References:
1 Dronedarone for Atrial Fibrillation The Limited Reliability of Clinical Practice Guidelines — JAMA-IM https://archinte.jamanetwork.com/article.aspx?articleid=1830022
2 Patient and Cardiologist Perceptions on Decision Making for Implantable Cardioverter-Defibrillators: A Qualitative Study Pace http://onlinelibrary.wiley.com/doi/10.1111/j.1540-8159.2011.03237.x/abstract