For the prevention of stroke in atrial fibrillation, the novel anticoagulant drugs dabigatran (Pradaxa, Boehringer Ingelheim), rivaroxaban (Xarelto, Bayer Pharma/Janssen Pharmaceuticals), apixaban (Eliquis, Pfizer/Bristol-Myers Squibb), and edoxaban (Lixiana, Daiichi-Sankyo) have been sold as both superior and more convenient than warfarin.
But is this true? More than 60,000 patients have been enrolled in randomized controlled clinical trials. Recently, two meta-analyses (studies that combine trials) have been published. That's a bunch of data.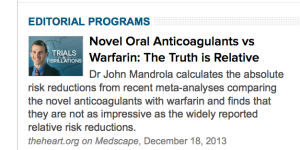 I had originally set out to explain how these meta-analyses had once and for all demonstrated the drugs' superior safety and efficacy compared with warfarin. I wanted to know the details. The raw data. In the process of truth-seeking, I made a discovery that had me running around like Archimedes.
Here are two teasers:
hype is defined as extravagant or intensive publicity or promotion.
When comparing two treatments, there is a huge difference between absolute and relative differences. One obfuscates and the other tells the truth.
The column is up over at Medscape Cardiology. The title of the post is Novel Oral Anticoagulants vs Warfarin: The Truth is Relative.
JMM
Medscape asks you to register with an email. I think it's worth putting up with these barriers. Not just for my work, but for the superb reporting and other editorial content. Of course, I am biased.