I am pleased to publish a guest post from friend and colleague, Dr. William Dillon, an interventional cardiologist in Louisville Kentucky. (He can be followed on Twitter @wmdillon.) I offer his words in the hope that they will bolster awareness of heart disease and foster a spirit of cooperation among all Kentuckians.
Bill and I trained together at Indiana University. After IU, we have been partners in private practice for more than a decade. He is the plumber; I the electrician.
In addition to his keen sense of clinical judgement and finely tuned hand-eye skills in the cath lab, Dr. Dillon has also felt the urge to do more to impact heart disease.
He has long been an innovator and facilitator of urgent PCI for acute myocardial infarction–heart attack. His guest post addresses the need to improve our state's dismal ranking in heart attack care. Only Arkansas does worse than Kentucky.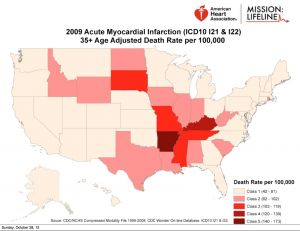 High quality care of acute MI is so about teamwork. Done well, urgent PCI brings out the best in US healthcare. It's like an orchestra–everyone plays an important role. But for too many citizens of this wealthy nation, a discrepancy in care exists. Bill wants this to change. Good for him.
Here is an excerpt from his post….
…Not every hospital has the ability to perform this life saving procedure. PCI centers require a dedicated ER, transport, nursing cath lab personnel and an interventional cardiologist on call 24-hours a day. Speed is critical. Every 1-hour delay in opening the blocked artery increases the death rate by 10%. The longer a coronary artery remains closed the more the heart is damaged.

Unfortunately, outside of major metropolitan areas access to PCI is limited. Too many patients do not receive any reperfusion treatment, or, they receive a treatment that is inferior to a timely PCI. This needs to change.

It is time to set up a regional network to transfer AMI patients to dedicated PCI centers throughout the state. This type of network exists for trauma patients and has been tried in North Carolina for heart attacks with great success.

To read the entire post, head over to In the Prime: An urgent call to improve heart attack care in Kentucky.
JMM