I thought this was interesting:
Six-placed Tour finisher Haimar Zubeldia, who rides for the US-based RadioShack/Nissan/Trek team, disclosed that he sat out for three months earlier this season for "persistent atrial fibrillation."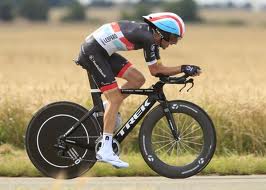 As reported by Cyclingnews.com, Mr Zubeldia said this in his statement:
"I had four weeks of complete rest and treatment."

Fortunately, "everything went well," and he thanked his doctor, family, friends and team, and now "I can enjoy cycling like never before."

He said that his team "was aware of my situation at all times," but the same can't be said of the public. "Some of you asked me then why I did not race during that time and I answered that I had a hamstring injury … I could not say anything else and I hope you understand."
It's not known what kind of procedure he had, if any.
This story has many important messages:
To endurance athletes... Listen carefully: Mr. Zubeldia stayed out of major competition for three months. In other words, he rested, so that his body and heart could heal. Secondly, and perhaps even more striking, is how well his body reacted to prolonged rest. The man misses almost half of his pre-Tour preparation, yet he finishes in the top-ten of the biggest race in the world. He obviously did not lose much fitness. The idea that the human body performs better with adequate recovery–both on the macro (season) and micro (weekly) levels–cannot be stressed enough. Be kind to your body; give it adequate rest.
To AF patients: Remember, AF is not a death sentence. The disease requires attention and sometimes treatment, but it often ends up well. You may not be able to ride like a Tour cyclist, but you will likely ride or run or swim or dance again.
To doctors: Though AF specialists have a long way to go before we can use the word 'cure', patients who get to us can enjoy the benefits of many new treatment options. Gone should be the days where AF treatment is worse than the disease.
JMM
Picture credit: From cyclingnews.com