For those interested in atrial fibrillation, there was significant news made last week.
Dr. Sanjay Narayan and colleagues, including highly respected Indiana University electrophysiologist, Dr. John Miller (also a JMM), finally published their exciting data on FIRM ablation. The CONFIRM trial (Conventional Ablation for Atrial Fibrillation With or Without Focal Impulse and Rotor Modulation) has now been published in the Journal of the American College of Cardiology. Journalist, Michael O'Riordan, nicely covered the details of the study on theHeart.org.
This is exciting stuff. It may in fact be a turning point in AF ablation.
My comments, written for a medical audience, can be viewed on the Trials and Fibrillations Blog at theHeart.org.
There are two truly novel things about FIRM ablation:
When added to conventional PV isolation, targeting these focal impulses or rotors markedly improved long-term results.
FIRM ablation teaches us that AF perpetuation depends on patient-specific critical sites, at which brief ablation can terminate or slow sustained AF.
Here's a brief stab at explaining FIRM: (Purists take note: I'm over-simplifying.)
Contemporary AF ablation (or PVI) looks like this.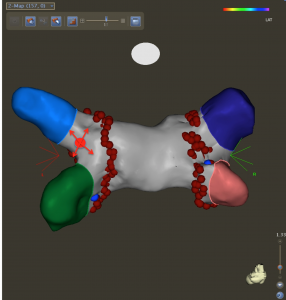 We use point-to-point RF ablation (it can also be done with cryoballoon) to encircle and electrically isolate the PVs. These burns act to build electric fences around the PVs. As I simplistically depicted above, the source or driver of AF often lies within muscle sleeves surrounding the PVs. The major problem with current-day PVI is that the lines depicted above are not as durable as we would like. Over time, gaps can develop and AF can escape out into the atria. Re-do ablation targets these gaps.
The other problem with PVI occurs when this happens: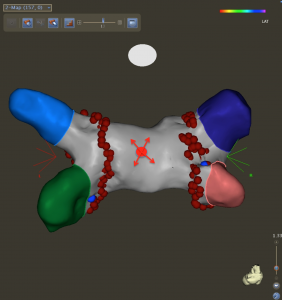 In this picture, the important area lies outside the burns. In other words, we've isolated Maine, Florida, Seattle and LA, but the problem was in Kansas. That's the thing: we don't currently know where these 'areas of interest' reside. More importantly, until FIRM ablation data was published, we weren't even sure they existed.
The CONFIRM trial tells us that patient-specific areas not only exist in human atria, but they can be targeted with brief ablation. And doing so, improves long-term success.
Though this is huge news, there is one major caveat: The ability to detect these areas depend on one company's proprietary computer software, which has yet to be explained or published. Electrical data obtained from basket electrodes placed in the right and left atria are fed into a Topera Medical computer. The computer-generated map magically tells the ablation doctor where to burn. It's crazy…I know.
We shall see how this plays out.
I am so hopeful.
JMM