This weekend's Ohio Valley Cyclocross finale marked our family's end to another great season of bike racing. The drenching rains made for true CX conditions. There's just something about racing a bike through ankle deep mud that's inherently uplifting. Math folks call such a common denominator.
This pic of teammate and pal, Rachel Fagerburg sums it up: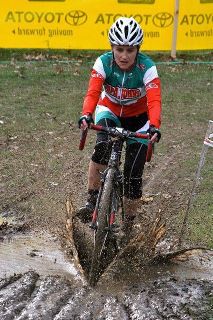 The sensations of the first turn of our elite race were alone worth making the trip.
Picture this: An already rain-soaked low-lying abandoned golf course. 50+ Elite bike racers. Pouring down rain. The first turn was completely soaked. The mud was spraying everywhere, including this doctor's eyes. Literally folks, I just pedaled as hard as possible while telling myself, "don't worry about seeing where you are going, just be in the moment." Really that's what I was thinking. And it's a surprise I duke it out for 19th? Mindfulness may be heart-healthy, but it may not be the best strategy for Cross.
Why are you droning on, on a medical blog about bike racing in mud. I mean who cares?
The reason why I write about such folly is well…because…I can. This is my blog, and what good what it be if you didn't know me. You could read far better analysis of heart news elsewhere.
The other reason for writing is to say how moved I am by the camaraderie of those who choose to race bikes through mud.
Take this short story of goodwill as a typical example:
Some guy overheard me telling the pit mechanic that I (a highly-trained nuanced heart specialist no less) was dumb enough to break the (only) bolt that holds the seatpost clamp tight. Such a blunder could be called a NEVER EVENT in cycling. The unknown guy, out of the blue, offers me a bolt out of his handlebars. "It only cost a few cents; I'll just go get a new one at the shop." OMG. It was a smorgasbord of niceness: add the kindness of a guy volunteering his bike-fixing skills on a rainy weekend plus that of a total stranger who put himself out for a fellow racer. This kind of stuff keeps you coming back. Would you give away a bolt off your bike–for a stranger?
I'll miss my cross buddies and the unparalleled sensations of the start of a CX race. With some good fortune in the coming months, I'll be healthy enough to once again play at Masters Neverland. A dream best summed up by this quote from dear friend and fellow writer/racer Bill Stone. (IMHO, these two sentences capture the essence of masters bike racing (emphasis mine):
"…But then again it is entirely likely that physical laws have no application in the the Never Land where Peter Pan Masters spend their weekends, and dream time. Besides, the Self finds a strange sense of calm within in the notion that the parallax is as sensible as the parallel; and besides, if a bike racer doesn't get to have his own story what's the point of putting on a number, or for that matter even getting up."
On to new chapters…
More parallax!
JMM