My quest for low inflammation hit a speed bump recently.
Usually patients uplift me.
But…
How would you have reacted if a patient asked you to write a prescription for aspirin?
You might answer as I did: aspirin is available over the counter, and at very low cost.
…"But if you write a prescription the government will pay for it."
Would the fact that this profoundly obese patient smoked 1 1/2-packs of cigarettes each day have affected you? Would their iPhone have tweaked you?
Would you have looked up how much a year's worth of generic aspirin costs—about the same as just one pack of cigarettes?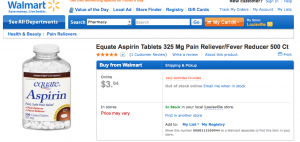 And…
Stop. Be nice.
I can't fix everything.
Move on.
Say no to inflammation.
Stick with treating AF; it's a lot easier than health care policy, by a long shot.
JMM