I know physicians. They are smart, hard-working and prideful. They do a lot of good in this world. But one thing we have been utterly incapable of doing is organizing together and speaking as one voice.
The American Board of Internal Medicine may have changed that. The hubris, overreach, and tone-deafness of ABIM may have gone too far. Now, there may be a glue strong enough to hold physicians together.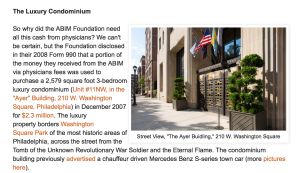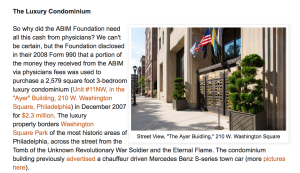 My colleague Dr. Wes Fisher culminated a 2-month investigative journalism adventure yesterday. He published his piece on the inner workings of ABIM, its foundation and its $2.3 million condominium in Philadelphia. Wes' work uncovered such things as domiciles in other states, $840K expenses for the condo, big salaries for executives, among other things. I'd recommend reading the entire piece.
Another influential voice in ABIM opposition appeared this week. Internist and author Dr. Danielle Ofri, writing in the New York Times, suggested that board certification has gone too far. Stop Wasting Doctors' Time is also worth a read. Dr. Ofri reviews two recent studies in JAMA that showed board certification had little to no effect on quality measures and costs. This has been my take as well: that there is no data to confirm that the ABIM brand (an expensive one) of medical education is effective or safe.
When I was preparing for my Top Ten Cardiology piece, I reached out to colleagues to ask about their views of the big stories of 2014. Every one of them mentioned the onerous new mandates from ABIM.
State medical boards, the American College of Physicians and the AMA have now pulled back from the idea of tying medical licensure to certification. Thousands of doctors have signed anti-MOC petitions. The opposition crosses specialty lines. Social media has amplified these voices.
This, my friends, may be a tipping point. I believe there's a bigger story here than just medical education and opposition to an overreaching organization.
Doctors coming together to speak with one voice. That is something I would not have predicted.
I'm just wondering: if we can come together to oppose ABIM, could we also come together to oppose other nonsensical notions that impair the doctor-patient relationship or threaten our professionalism?
JMM