Many things have changed in my life.

I still practice electrophysiology full-time in Louisville. I still write. And I still love endurance exercise.
You haven't seen many blog updates because my writing has taken different forms.
One is academic writing. In 2019, I co-authored 21 academic papers. Here is a link to the papers on PubMed. This has been an exciting turn. I love being on the steep part of the learning curve for new stuff. Make no mistake: I am a beginner-academic.
Much of my academic work centers on the state of medical evidence. One of the studies I am most proud to have worked on is this evaluation of the prevalence of spin in the cardiovascular literature. Sadly, language designed to distract is damn common in medical science. Caveat emptor.
I am also grateful to Dr. Roderick Tung from the University of Chicago for inviting Baptist Health Louisville to participate in the first ever head-to-head randomized controlled trial of His-bundle pacing. This study garnered the big stage at the Heart Rhythm Society meeting and its findings were published in two leading cardiac journals–JACC and Heart Rhythm. (We kept the spin to a minimum!) Being part of an RCT was almost as nifty as pacing the his bundle.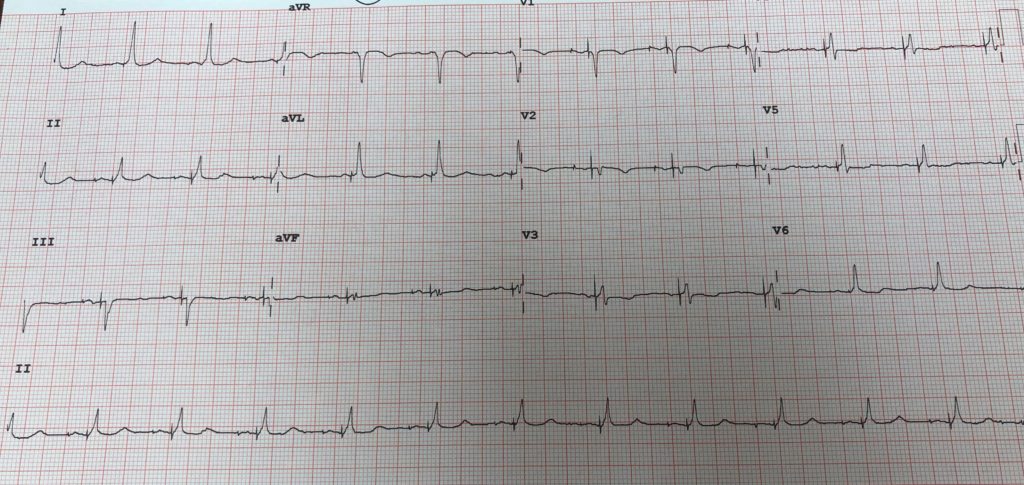 A cool thing about the time we live in is the ability to have mentors all over the world. Here, Dr. Andrew Foy and his team at Penn State University in Hershey PA, deserve mention. Andrew is a true academic; he has helped me understand research methods. We have published many papers together, including my favorite: The Case for Being a Medical Conservative. Kudos and gratitude to the American Journal of Medicine for publishing our essay, and not putting it behind a paywall. Thanks also to the EconTalk podcast for devoting a show to the conservative approach to medical practice.
Another writing form that occupies a lot of my time is podcasting. Every week, I review the top 3-5 studies in cardiology. The podcast is called This Week in Cardiology. It's produced and published by theHeart.org | Medscape Cardiology.
I was wrong about podcasts. Years ago, when my editor approached me about doing a weekly podcast, I was resistant. But now I hear from listeners all over the world. The strength of the podcast as a medical educational form has been stunning.
Malcolm Gladwell said (or wrote) that he started Revisionist History because he was afraid that if he didn't, his writing would not reach younger people.
I think Gladwell was right. Most (but not all) the people who reach out to me to say they listen to TWIC are young. This makes me happy because I love teaching.
I still write for Theheart.org | Medscape Cardiology. You can find my columns at Musings From Mandrola. One thing you should know about Medscape is its professionalism. The news and editorial team have given me great faith in journalism. My columns may be called blogs, but the editorial oversight and fact-checking there far outpace most academic articles I have published.
The other major change in the way I create content is the lecture. In 2019, I was honored to speak in Park City, New Orleans, Phoenix, Vilamoura Portugal, San Fran, Chicago (at an oncology meeting), Paris, Venice, Rzeszów, Poland, Edinburgh, Scotland, Los Angeles, Salvador Brazil and Philadelphia. Meeting colleagues across the world is a thrilling life experience.
Three special notes: doing real cases in Poland with Piotr, Pasquale, and Jaro.
And meeting in real life, the Professor Darrel Francis: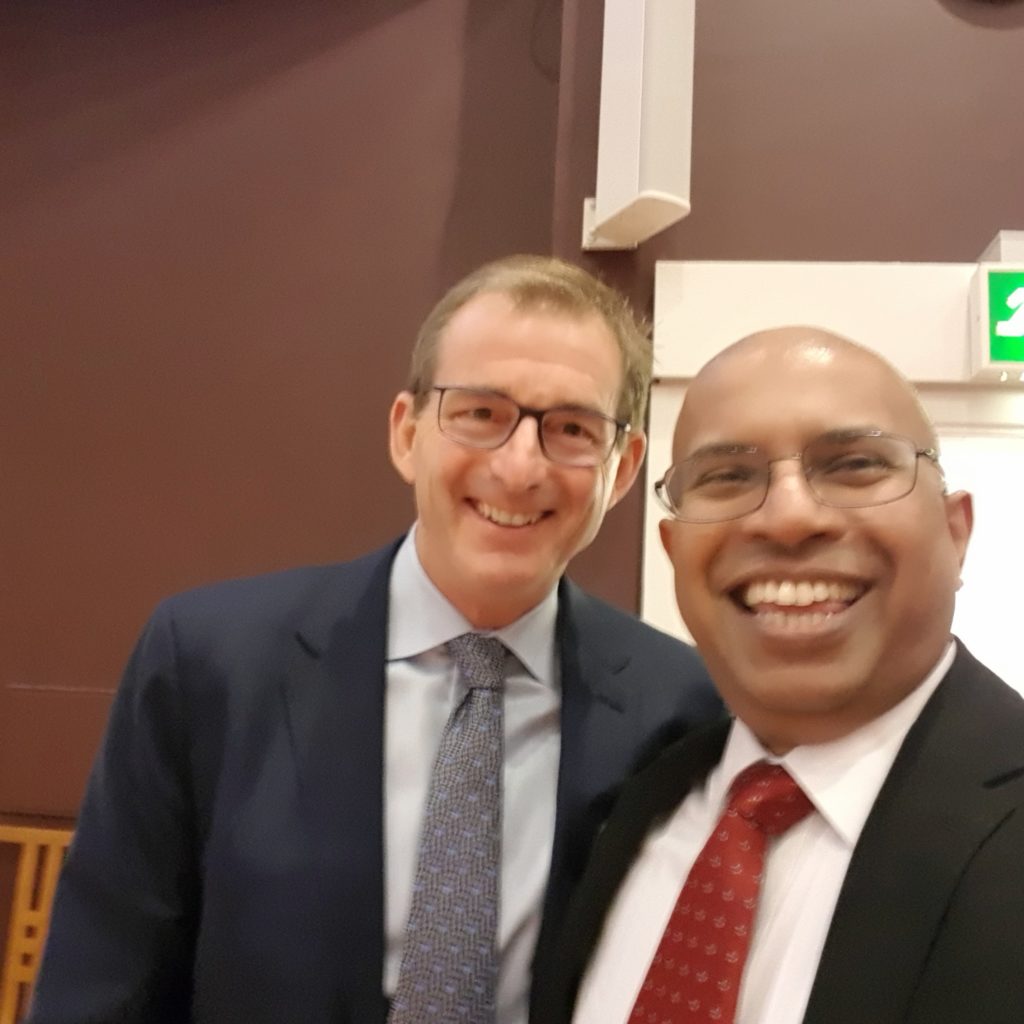 And to you Dr. Andrew Flapan: thank you to the power of ten.
Finally, on the exercise front, I have retired from criterium and cross racing. These are for the young. I still ride my bike but no more in anger.
To fulfill my exercise addiction, I have gone back to running. This year, while in Poland, I ran the Rzeszów Maraton–an unforgettable memory. Thanks Arek, Magda and Piotr. This image is from the start. The image at the end is different. Hey Arek?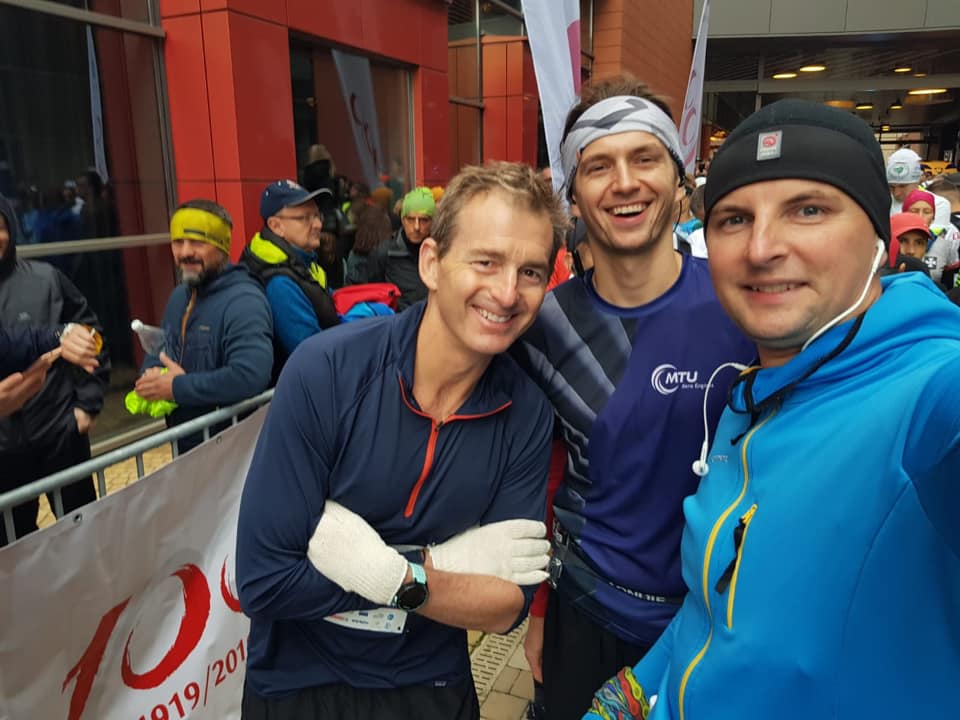 I know; the maraton is silly. But I will try another in 2020–to redeem myself for cracking in the last 10k in Poland.
Far smarter is a 5k run by the sea. Thank you, Dr. Luis Correia
If you don't use Twitter, you should. It's a brilliant medium for those interested in medical science. I am here @drjohnm
JMM