Many readers have contacted me to ask whether my negative viewson left atrial appendage occlusion with Watchman have changed since 2017.
The short answer is no. My views are even more negative today.
In 2016, I published an editorial on theHeart.org | Medscape Cardiology arguing that this procedure should stop. One of the rebuttals was that it was a blog post, not an academic editorial.
Months later, Andrew Foy, Gerald Naccarelli and I put the same argument into academic-speak and the influential journal Heart Rhythm published it.[1]
I have debated and presented this topic multiple times in the US and Europe. 
The newest data on Watchman have reinforced my negative view.
Efficacy Issues:Â 
Two studies published in 2018, one from Watchman investigators,[2]and the other from independent French researchers,[3] found high rates of device-related thrombus on follow-up echocardiograms (Translation: clot stuck to the device). This is not surprising since the Watchman is a foreign body left in the heart.
This data also helps explain why, in the Watchman vs warfarin trials, ischemic stroke (due to blockages) rates were HIGHER in the watchman arm. 
Both these papers reported that clots on the device go away with clot-blocking drugs called anticoagulants. That's an existential problem because the main reason for having the device put in is to avoid the need for anticoagulation. 
Procedural Complications Higher After Approval:Â 
A group of researchers from the University of Kansas assessed the safety of Watchman after its FDA approval.[4]Â 
They used the FDA MAUDE database to assess the rate of complications divided by the number of implants.
This figure from their paper shows the higher rates of procedural complications after approval. Most sobering is that events in MAUDE surely under-estimate the true incidence of complications.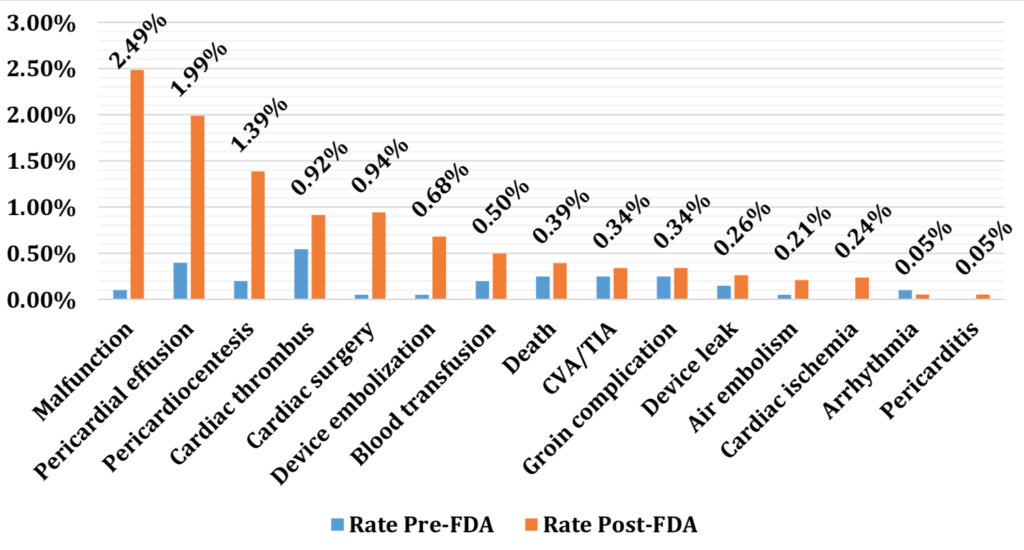 Moral Hazards:Â Â 
You should also know about the moral hazards faced by US hospitals and physicians putting in this device.
Boston Scientific, the maker of Watchman, charges the hospital a large upfront fee to start a left atrial appendage occlusion program. Then they create price incentives that kick in if a hospital does "enough" Watchman procedures. To break even or make money with this device, one has to do a not-small number of procedures.
Given the asymmetry of information in the doctor-patient relationship, this moral hazard is downright ugly.
Unmet Need:Â 
During my debates and in discussions with colleagues at my hospital, I am asked what to do for patients with atrial fibrillation who are at high risk for stroke and cannot take anticoagulation.
Some doctors feel they have to offer this procedure as an option. This, I believe, is wrong-headed. 
If a patient had cancer and studies showed chemotherapy did not work for that type of cancer, the doctor should not offer the chemotherapy—in the name of "doing something." 
In Medicine, doctors should not offer therapies that do not work. 
I have studied the evidence—not the spin–for left atrial appendage occlusion and this much is clear: it is an invasive procedure with a high risk of complications, and when it was compared to anticoagulation, it did not prevent ischemic strokes. 
Patients who could not take anticoagulants were excluded from the Watchman trials. While the absence of evidence is not the same as evidence of absence of an effect, the data we have on Watchman predicts higher risk patients will likely do worse with Watchman.
Summary:Â 
I do not recommend this procedure. Period. There are ongoing trials now in Europe. If these trials show benefit, I will reconsider this approach.
I am a medical conservative.[5]
This means I recommend expensive invasive procedures only when the benefit is greater than the harms. This is not the case for left atrial appendage occlusion with Watchman.
References:
1. Mandrola J et al.Percutaneous Left Atrial Appendage Closure is Not Ready for Routine Clinical Use. Heart Rhythm. doi:10.1016/j.hrthm.2017.10.007.
2. Dukkipati Srinivas R. et al.Device-Related Thrombus After Left Atrial Appendage Closure. Circulation2018; 138(9): 874–885. doi:10.1161/CIRCULATIONAHA.118.035090.
3. Fauchier L et al.Device-Related Thrombosis After Percutaneous Left Atrial Appendage Occlusion for Atrial Fibrillation. J Am Coll Cardiol2018; 71(14): 1528–1536. doi:10.1016/j.jacc.2018.01.076.
4. Jazayeri M-A et al.Safety profiles of percutaneous left atrial appendage closure devices: An analysis of the Food and Drug Administration Manufacturer and User Facility Device Experience (MAUDE) database from 2009 to 2016. J Cardiovasc Electrophysiol2018; 29(1): 5–13. doi:10.1111/jce.13362.
5. Mandrola J et al.The Case for Being a Medical Conservative. Am J Med2019; 0(0). doi:10.1016/j.amjmed.2019.02.005.