Hi all,
I have graduated from blogger to author. My first book is now available. It's called the Haywire Heart. I co-wrote it with Chris Case and Lennard Zinn. VeloPress is the publisher.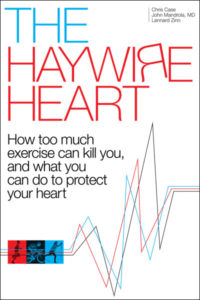 The book deals with one of my favorite themes: heart conditions in endurance athletes.
Although exercise is a key component of health, excess exercise can lead to heart problems. In nine chapters and about 300 pages, the Haywire Heart attempts to be a comprehensive review of the topic. Chris and Lennard are terrific writers. All three of us are endurance athletes. Lennard had to stop racing because of atrial arrhythmia.
The book is available now at VeloPress. It's being made into electronic format, which is expected soon. Runners World and Triathlete Magazine have featured the Haywire Heart as picks for 2016. That's nice.
I hope you enjoy it.
Thanks for your support through these 6 years.
JMM