I recently received this message: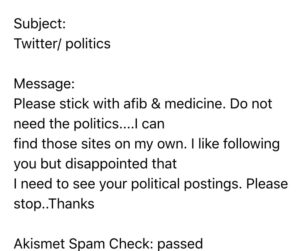 This is not the first time I've been scolded for straying from medical topics. Last October, during the Lown Institute's RightCare Action Week, I wrote about our ailing healthcare system. This prompted a different reader to send a similar message: Stick with topics about atrial fibrillation–went the gist of that terse note.
My first reaction to these rebukes was displeasure. Most people like to be liked, so getting negative reviews stung a bit.
But then I thought about the issue of doctors expressing political views. Maybe I should stick to medicine. I asked around.
A surgeon friend said he avoids politics and religion in all public discourse. He cited concern about mixing personal and professional voices in public. This surgeon is thoughtful and wise. His view gave me pause.
My virtual mentor and friend Dr. Bryan Vartabedian wrote a brief post on the issue. Doctor_V is an expert in navigating the public space.
He concluded with a question:
So the question of whether to weigh in on presidential politics as a public physician should be based on purpose of presence. Why are you public?
That helped me decide how to react to those who don't like it when I stray from medicine.
I decided that my public voice is not merely as a specialist in a disease that affects millions of people. Patient education is part of my public voice. Sure, I know the heart rhythm; and it helps me, and perhaps others, to share a digital notebook of sorts.
But I am in the public to do more than provide medical facts.
As a doc, I am in the people business. Being a doctor requires understanding the human condition. This quest leads me to history, literature, behavioral psychology, statistics, writing, and yes, even politics.
Non-physicians have much to teach about the human condition. Would you be surprised, for instance, if Harry "Rabbit" Angstrom suffered from AF? I would not.
I spent much of my life learning how molecules and cells and organs work. These are important lessons.
But so are the human lessons one gathers from reading people like John Updike, Philip Roth, David Foster Wallace, Margaret Atwood, George Orwell, Noam Chomsky, Christopher Hitchens and perhaps the grumpiest of them all, Henry David Thoreau. I also love Sylvia Boorstein.
I stray from medicine because I am a public learner.
One way to get better at medicine is to think about how you think. Learn from mistakes. Consider biases. Avoid attachment to dogma. It's the equivalent of reading The New Yorker and the Wall Street Journal.
The overused word amazing is defined by "casting great surprise and wonder." Could there be a better word to describe the situation of humans in the United States?
To ignore what drove us to this political place in American history would be like treating AF with only an expensive catheter.
JMM