Heart disease remains the leading killer of humans. People want to be protected. The fast-thinking notion is early detection is good, the more knowledge, the better.
I wish it were that easy.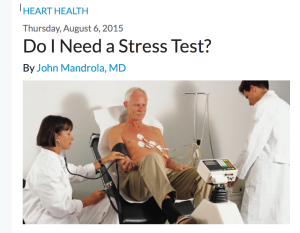 What follows is my most recent post on WebMD on the basics of cardiac stress testing:
****
A middle-aged surgeon recently asked me to do a stress test on him. Why? I asked. Are you having problems? No, he said. He simply wanted to have his heart checked out, to be sure.
I asked him a few questions. I learned he exercised vigorously almost every day. He had no chest pain, breathing problems, or dizzy episodes. He did not smoke, nor did he have high blood pressure, diabetes or high cholesterol levels. Both of his parents lived well into their eighties.
When I told him getting a stress test was a bad idea, he looked at me funny. He said he didn't want to die suddenly or have a heart attack.
To read the full post click on Do I Need a Stress Test
JMM