I am in San Diego to participate in the Lown Institute Road to Right Care: Engage, Organize, Transform conference. It is an honor to be included in a conference that has "right care" in its title.
Tomorrow, Dr. David Martin (Lahey Clinic) and I will co-present a case-based session on the overuse and misuse of AF ablation. We will talk about the drivers of overuse, including the confusion about the disease AF, the fee-for-service system, our culture of doing, and the if-you-build-it-they-will-come model of hospital growth.
The tide is changing in how doctors think about AF. Mainstream electrophysiology now gets it: AF is a symptom of a systemic disease. Take a look at my report from the recent Western AF symposium.
We used to see AF as its own disease. It was in a silo. The new knowledge that AF is a symptom of widespread cardiovascular disease disrupts the status quo. It also means the right treatment of AF is rarely doing more damage to the atria with ablation.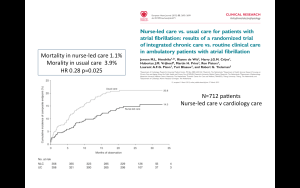 If we in the US really cared about delivering the right care for patients with AF, we would pay more attention to the work Dr. Jeroen Hendriks, formerly of Maastricht University, Netherlands, now in Adelaide Australia. His team of researchers showed that nurse-led care–aided by computer algorithms–in an integrated clinic improved outcomes.
Here is a presentation from Prof Hendriks. Yes, he said nurses were in charge of the AF clinic, and this nurse-led team care trounced the usual care from cardiologists.
I met Dr. Hendriks at the ESC conference in Barcelona. I reported on his study for the Trials and Fibrillations column on TheHeart.org
The superior performance of a nurse-led AF clinic makes perfect sense. If AF is a symptom of widespread disease that stresses the atria, the right care is to treat the source of distress to the atria. In the US, this usually means treating high blood pressure, high inflammation, diabetes, obesity, sleep disorders, psychosocial stress and alcohol excess. None of these conditions get better with a catheter.
To be sure, there will always be a role for skillful catheter ablation in the left and right atrium. Just not as much as is being done now. Too often, AF ablation is not the right care.
JMM