After four years and 823 posts, it was time to try a new look. The old format was getting both wonky and tired. So I did something that doctors struggle with: I changed.
I'm not sure that I am settled on the colors and fonts yet, but most of the old stuff is there. The menu items have been condensed, a link to my work at what is now called Medscape/Cardiology (was theHeart.org) added, and in the footer, you will see my Twitter feed. This blog has always been about content, not flashy design. I've tried to keep it simple, yet make it easy to navigate to archived content. I use the search button a lot.
Of course I didn't do this alone. Sharon Hujik, author of the blog Good True and Beautiful, helped me. Sharon has been with me since I switched to WordPress (from Blogger). If you need help with web design, I'd highly recommend her work. Here is a screen shot of her site.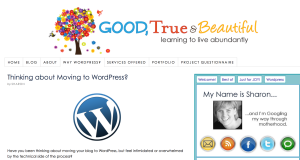 Let me know what you think. If something isn't working, please send me a note. Thanks Sharon.
JMM