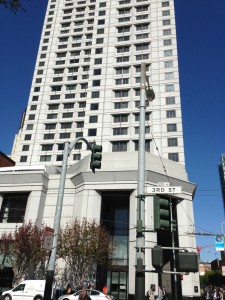 The first day of the American College of Cardiology (ACC) meeting is like the first lap of crit or cross race. It's a whirlwind. Your head spins. You are trying to get oriented, but as a part-time journalist, you also know that big news happens on the first day.
And oh did it ever.
One of the meeting's most anticipated trials, was pulled from the program one hour before presentation. The PREVAIL trial was eagerly awaited because it studied a device that stood to change the practice of stroke prevention in patients with atrial fibrillation. The Watchman device is a plug of sorts that is inserted into the left atrial appendage (LAA). The idea is that most (not all) clots in AF come from the LAA. If this could be occluded, stroke risk would be reduced and patients would no longer need to take drugs that increase bleeding risk. There are millions of patients with AF, stroke is a dreaded complication and no one likes anticoagulants.
You can see why this is so big.
But then, the morning of the presentation, there came an announcement that the trial would not be presented because Boston Scientific, the makers of Watchman, breached the embargo. But the slides were still in the program. This created quite a stir. And journalism folks were already inflamed from the argy-bargy in the week leading up to the meeting: It seemed the trial would not be presented, then partially presented, then fully presented, now not presented.
These antics were not the reason why I wrote this decidedly negative opinion piece on the Watchman. I wrote it because the Watchman is not likely going to make it past FDA muster. And if it does, I would be very hesitant to adopt the technology. I gave eight reasons to be doubtful in the piece.
The other news of my day:
I was really happy to see theHeart.org journalism team again. They are a super-professional bunch and they are awfully nice to me. I'm like a Cat 4 in a 1-2 race when it comes to journalism.
I saw this picture in the expo. It's hard to wrap your head around Coke being heart-healthy. Keep that cynicism about industry sponsorship of medical societies at bay, please.
I went to an interesting session on AF and athletes. (Look for an update later.)
I met Dr. James Beckerman (@jamesbeckerman)
I walked to dinner and ate an entirely vegan meal! It's heart meeting after all.
Oh, and BTW: it was really nice out here yesterday.
I've already written my second piece. It address the issues of over-monitoring and noise pollution in the hospital. Here is Shelley Wood's recap of the study. My opinion will be published soon.
For breaking news, theHeart.org team has it covered. Their home page looks amazing.
JMM