Hey all,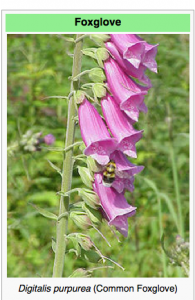 I just published a new post on an old drug–digoxin.
"Dig," as it is shortened to in medical-speak, originally came from the foxglove plant.
A recent analysis of the landmark AFFIRM trial has questioned the wisdom of using this decades-old medicine.
I know; dig isn't as interesting as ObamaCare, ICDs or AF ablation, but it is an important topic. Estimates have nearly a third of AF patients in the real world on digoxin. But is this wise? What are the real outcomes?
I kept the post short. I mixed in a few bike racing references, some history, a little botany and of course, a reference to less-is-more thinking.
Here is the title and link: It's time to rethink the role of digoxin
JMM