Greetings from Munich Germany.
Today was the last day of the European Society of Cardiology Congress. I had a great time, learned a ton and met an amazing group of medical journalists from theHeart.org.
On the last day, I decided to attend a bit 'softer' session. Provocatively titled, A drinker, rather than a smoker, is at risk for atrial fibrillation, the Japanese researcher presented intriguing information on the association of drinking alcohol and atrial fibrillation.
You can view my thoughts on the matter over at Trials and Fibrillations on theHeart.org.
Sorry.
It's oh so ironic that you can buy beer, wine and some sort of hot dog-on-steroids right in the middle of the convention–at 1030 in the morning.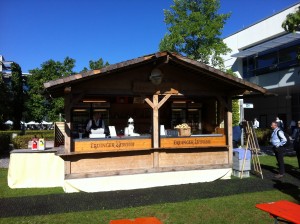 "This is normal?"
The young German lady serving the happy delegates answers my inquiry with a grin.
JMM