I'm going to tell you a secret about my office practice. (Yes, procedural-based doctors spend long hard days toiling in the office.)
On office days, I often play a little game with my imaginary friend. He challenges me to leave the prescription pad in the drawer for the entire day. The idea being that patients are on enough meds already, lifestyle changes are underused and the human body often heals itself. My buddy also warns me about making patients worse. That makes him mad.
I slipped up once and let a colleague in on my challenge. He was aghast, adding this: "John….cut it out…how are we supposed to help heart patients without medicines?" He didn't mention the whole imaginary friend thing. Whew.
Let's get a little serious about the paradoxes of using chemicals to treat disease.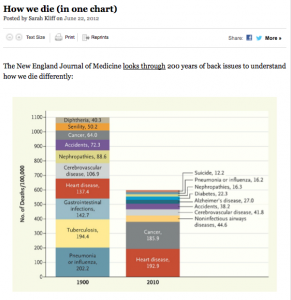 There is little doubt that medicines have improved mankind. Just look at this highly tweeted NEJM graph of how we died 100 years ago v. now. Much of the gain in lifespan has come from the beneficial effects of medicine.
In many ways, I am a believer. There are some really good heart medicines. Here are three that stand out for their benefit, safety and depth of supporting evidence.
Beta-blockers relieve palpitations, improve mortality in patients with heart disease and don't generally harm people. I like beta-blockers because they might be the safest pill a human can take.
We debate the benefit of statins in low-risk patients, but they are probably the most important medicine a patient with coronary heart disease can take. I strongly believe statins are one of the reasons why many of my ICD patients seem to defy their diseased hearts, and just keep on living.
Blood-thinning drugs greatly lower the risk of stroke in high-risk patients with AF. Stroke ranks near the top of worst things that can happen to a person. Now we have three choices—soon to be four–of agents: warfarin, dabigatran and rivaroxaban. Though blood-thinning drugs increase the risk of bleeding, this downside can be minimized by patient selection and education.
Obviously, there are many more medicines on the list of "good medicines." Doctors and patients are immersed in a sea of potentially good medicines.
The question is how much medicine is enough? Gaining benefit from medicines doesn't add up like numbers on a spreadsheet. You can't just sum the incremental benefits and risks. Drugs interact with each other. These are complicated chemicals that modify complex human biologic systems, often in highly individualized ways. That's a fancy way of saying: modern medicine is not Mickey Mouse.
Many experts think we have gone too far in prescribing pills. They argue that patients are over-medicated. As a doctor on the front lines, I'd have to give this opinion significant merit.
The 'Poly-pharmacy' of American patients is not new. I learned about the dangers of prescribing too many medicines back in the 1980s. It's just way worse now. That's why I was drawn to this piece in the UK's Guardian. Dr. Corey Franklin provocatively calls our situation an "epidemic of over-prescribing." He nicely lays out three possible factors:
Patients are increasingly burdened with chronic disease.
Direct marketing to patients. Patients are made aware of drugs or diseases to "ask their doctor about."
Big pharma's skillful and aggressive marketing to doctors. This includes the 'employment' of thought leaders who greatly influence prescribing physicians by speaking on behalf of the drug and then writing practice guidelines. (Think Multaq.)
I'll add two of my own:
Guideline and quality measure metastases. We all want to measure the quality of health care. In this way, doctors share the same fate as teachers. Policy experts wrongly think they can measure good doctoring by electronic compliance with guidelines (call them tests). So just like teachers are, doctors are measured by tests that rarely reflect skillful practice. This can lead to mindless testing and the need to get patients on 'evidence-based' pills. The huge problem here is that conventional wisdom in the practice of Medicine changes. What was right in the past can turn out to be wrong now. Medicine is replete with the hubris of conventional wisdom. Overly aggressive care of diabetics and the elderly with high blood pressure are two of the most recent examples of cracks in ivory-tower thinking.
Disease creep. Another factor in over-medication is society's acceptance of new diseases. I'm no pediatrician, but I do see a lot of young kids for high heart rates induced by attention-deficit medicines. My b-student brain wonders how many of these tachy-kids would respond to better sleep, exercise and good food?
If I was a professor of Medicine and not just a blogger, my bottom-line message would be simple:
Use the fury of medicine sparingly. Heck, you could even suggest a time out before writing e-prescribing a medicine.
Encourage patients to help themselves. Ask whether the slightly high blood pressure, blood sugar or pesky premature beats could be treated with simple and small choices. A pair of
sneakers is cheaper than the newest angiotensin-receptor blocker.
When I really dream, and not just talk with my imaginary friend, I often see doctors and educators and government and medical industry all working together to say—build communities where people can walk or ride a bike to school and work. I see a society where healthy behavior is normal and not an anomaly.
Enough dreaming. I've got to go doctoring.
JMM