You may have heard that the new blood thinner, rivaroxaban (Xarelto) made news at the recent ACC meeting in Chicago. The Einstein PE trial showed rivaroxaban equivalent to standard therapy (enoxaparin followed by warfarin) in the treatment of pulmonary embolism (blood-clot in lungs). When the researchers looked at net clinical benefit, a measure that gives equal weight to both primary efficacy outcomes and major bleeding, rivaroxaban fared better than standard therapy. (In my opinion, this trial was the best of the ACC meeting.)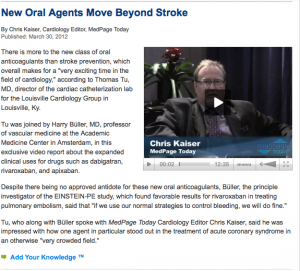 My partner, Harvard-trained Dr. Thomas Tu, sat down with the famous international researcher, Dr. Harry Buller (Netherlands) and Chris Kaiser from Medpagetoday for an old-fashioned roundtable discussion on the new blood thinners, and their role in non-AF conditions.
Both doctors speak clearly and precisely. The 12-minute video offers up an excellent summary of warfarin, the Einstein PE trial and much more. It's great to see my cubicle mate and all-around nice guy mixing it up with international experts.
Take a look.
JMM
Also: Chris Kaiser has been a supporter of DrJohnM since its inception. Thanks Chris and congrats on a great interview.