Hey friends,
You will not want to miss this week's version of Medical Grand Rounds. It's hosted by the ever passionate Dr Rob Lamberts on his blog entitled More Musings (of a Distractible Kind) .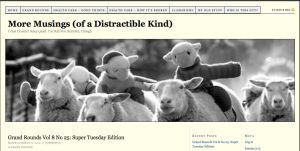 Here's a doctor for whom it still matters. So much does Dr Rob care that he tackled a topic that is normally off-limits for blogging doctors that are still in practice: he wrote a letter to politicians about our healthcare system.
Dr. Rob writes…
The bottom line is this: you have all lost touch. It seems that you are more connected to the votes than to the voters, more aware of the polls than the needs of the people being polled, and more set on political battles than fixing the mess our country is in. In no area is this more plain than our health care system.
But with Dr Rob, there is always more–more words, more zeal, more meaning. Hosting just one Grand Rounds is not enough. Dr Rob gives us this poetic bonus: There Once was a Grand that was Round
Hey Doc…Thanks for including me. And thanks for caring so much about good doctoring.
JMM