I am very excited. Nervous too. The ante has been upped.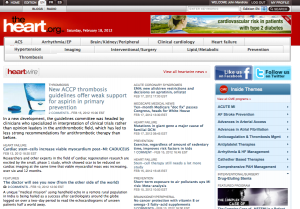 240,000 members
– 60,000 cardiologists
– 38,000 other physicians
– 66,000 Health care professionals.
That's the TheHeart.org: a website where one can find the latest developments in cardiology and cardiovascular research, including heartwire news and commentary by some of the world's top cardiologists.
It's a real honor to join this very prominent and respected team.
My new blog on TheHeart.org has the cheeky name, Trials and Fibrillations.

My task is to speak about heart rhythm matters in the real world of private practice. As the THO's audience includes mostly medical folks, my language will be slightly more technical and the topics clinical.
Like big races, steep climbs and gnarly mountain-bike trails are, the greater the risk, the more the reward. The challenge of writing before this many smart people feels the same. I'm just a regular doctor, and surely less than a regular word guy.
But this is the thing about bike racers and heart docs: doers as we are, we tend to treat apprehension with healthy doses of effort. We try. "Don't want bad outcomes?…Don't do anything," I was once told by a respected surgeon after telling him of a less than ideal procedural outcome.
In my first post, I ask what we are doing with AF ablation. Does the bigness of the hammer fit the size of the nail?
AF ablation: What are we doing?
Special thanks to Shelley Wood and Steven Rourke from heartwire for giving me this great chance.
JMM