<Apologies in advance: this post is a (major) re-write of an old post.>
Heart rhythm doctors are trained observers. We spend our days focusing on minute squiggles which are timed in milliseconds. It's all a lot of observation.
It's only natural that one's work skills might spill over to normal life. Plumbers are handy around the house; bankers are good with the books; and journalists make good bloggers.
We heart rhythm doctors are good at observing things. (Which, to our spouses' dismay, doesn't make us very handy outside the hospital.) Heart rhythm doctors that write a blog are especially keen on looking for fresh new topics. Note to self. Evernote that. Dragon dictate this. Take a pic–that's a good example of… Etc. Etc.
So while driving through the neighborhood, the trained observer in me noticed this image: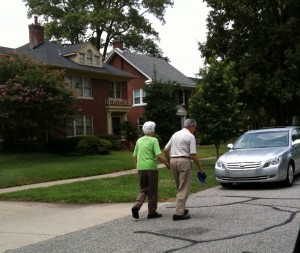 My teenage son asked why we were stopping to take a picture of old people.
I answered that this was a good visual of heart-health.
Why?
If the final common pathway of successful aging lies in soothing the inflammation that life throws at you, this picture speaks volumes. They walk through the neighborhood hand-in-hand, near daily. They talk to each other; they like each other; they are a team, for the past sixty-five years.
It strikes me how many times this pattern is repeated: the patient with advanced heart disease powers into my office together with their loving spouse of many years. They defy the illness. It's as if two can fight disease better than one.
You can find oodles of websites proclaiming that long-term loving relationships are a key component of longevity. This I strongly believe. The anti-inflammatory effect of companionship cannot yet be measured, but if it could, I wonder whether it would be as potent as fish oil, or statins, or beta-blockers. Surely, for extending life, a hand-holding loving companion is a more powerful therapy than a coronary stent or defibrillator?
Life brings choices. Though my data is only anecdotal, I'm guessing that choosing to have a hand to hold is one heck of an important decision.
JMM