This Wednesday, I am going to break away from medical topics.
I will drop the biological vernacular, distancing myself from terms like sarcomeres, ion channels and inflammatory markers.
Rather, I will pedal my thoughts on a bike racers' biggest distraction each July: The Tour de France.
Okay, that's enough cycling-related action verbs. Sorry. But this is just a blog, not anything too serious. It is just me, DrJohnM.
Here goes…
The Mandrola family DVRs (is that a verb?) the live Tour broadcast each morning. We then enjoy family dinner together in front of the TV. Since we can't take 21 days off in a row, we watch the "live" broadcast six hours after the riders finish in France.
Keeping the day's results of the Tour a secret highlights one of the dangers of our modern-day connectedness. Just the briefest peek of Facebook or Twitter risks spoiling the final plot. Scanning the twitter feed, it is hard to force your eyes to look away from the headline proclaiming the stage winner. And it's not just social media, you must look away from TVs in hospital rooms—as they may be tuned to ESPN or CNN. You may even interrupt others in mid-conversation when Tour talk comes up…"Stop, I have not yet watched today's stage."
Well, what do I think about this year's Tour thus far?
Overall, I think it has been fantastic. As a fan of sport and competition, I love the intensity of each day's race. As a bike racer, I appreciate the tension and anxiety of racing in the race that matters the most. This nervousness factor is under-appreciated by most regular sports fans. Most mainstream sports commentators like to talk about the Tour's length, or speed, or the altitude of its climbs. But the mental tenacity required to race this hard–elbow-to-elbow–for 21 days is something that bike racers find immensely compelling. Talk about pre-race butterflies!
Some specific observations: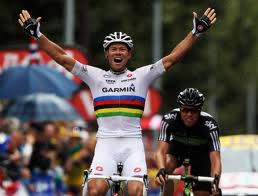 Muscular sprinters are attacking in the mountains, and winning. The guy is named Thor, the God of Thunder.  And no, I am not making that up.
General classification favorites are actually racing downhill, and on non-mountain stages. This is a novel concept in recent Tour history. In the past decade or more, the formula for wining the Tour has meant going hard in the mountains or in time trials. In this year's race, however, the favorites are dueling for seconds on "regular" stages. This, I find really cool. (For the record, I love racing down hills, probably for the same reason that I like writing: because there's a lot of room to improve.)
The yellow-jersey holder at the moment is a short Frenchman who resembles a happy-faced cartoon character. Most everyone loves Thomas Voeckler because he tries so darn hard, wears his emotion on his sleeves, looks grateful for his gifts, and is realistic about his chances. In ot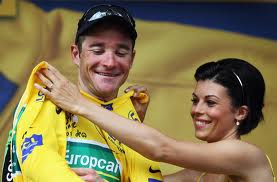 her words, he looks highly comfortable in his own skin. Given that he has held the yellow jersey for more than a week, and holds more than a minute lead, some might say Mr Voeckler is overly pessimistic in giving himself "zero" chance of winning. We shall see soon. No matter what happens, the Mandrola family likes Mr. Voeckler a lot.
It is neat that American teams and bikes are figuring prominently in the race. Garmin and Columbia Sportswear sponsor teams that have won stages. Many of the dominant teams and riders are on American-made bikes like Trek, Cannondale and Specialized. Like me. My first bike was a Trek, my second a Specialized and now I ride a Cannondale.
The most obvious difference that cyclists see (and are talking about on rides) in this year's Tour is the lack of stick. 2011 Tour racers look more human, more real, more like us. A rider might launch off the front of the race, but invariably they cannot hold the effort and are pulled back. Thus far, we have yet to see a rider do anything "unbelievable." Is this a sign that our sport is "cleaner?" Most bike racers would answer a resounding, "yes."
I am looking forward to the next few days when the Tour climbs over the most famous Alpine passes.
And until Saturday, I will be treading lightly on the social networks. Shh. Please don't tweet anything about the day's Tour stage until 2300 EST.
JMM