Hello there, all.
It's been a while. Whoa, that was a vacation.
I've decided to type frivolously tonight. The main purpose in doing so is just to get started writing something. Anything. I'm afraid the malaise of vacation is lingering. I'm afraid that it might stick.
Please don't look for me to give a heavy analysis of a recent heart trial, healthcare reform commentary or medical case reporting. Tonight's post is akin to the first ride after an extended time off the bike. Most with common sense would start back with something easy and light—a spin around the park, rather than a hilly training ride.
So it goes after eight days on vacation…
My daughter texted that she couldn't believe that I went on vacation without the MacBook. I did. But even more striking than traveling without a computer was that our Caribbean outpost lacked any affordable connectivity.
Just roll with it I thought.
It felt strange at first, but then the freedom of un-reachability started to tingle. After facebooking our daughter to call the hotel in an emergency, my wife, Staci, and I gingerly powered down our smartphones. In the hotel, we repeatedly walked past the newspapers in the lobby store, kept the TV off, and just barely peeked at the NCAA tourney. The gathering of the American College of Cardiology was definitely too meaty a topic for the Caribbean.
Our family abruptly terminated all consumption of non-fiction material over the past eight days. I'm delighted to report that weaning off non-fiction is unnecessary; there was no sequelae, no rebound, and no rashes. Really, it was pretty easy.
I read fiction. Stories. These were made-up stories, without data tables, p-values and hazard ratios.
The three books that kept me busy were:
Little Bee, by Chris Cleave.
Secrets of Eden, by Chris Bohjalian
Noah's Compass, by Anne Tyler.
Of the three, Little Bee was clearly the standout. Chris Cleave meshed the tragic life of an African teenage girl with an elite British journalist into a beautifully written and inspiring human story. I loved it, and would rank it in the five-star category.
I enjoyed Secrets of Eden more for its different style than for the story. Mr Bohjalian narrates the saga of domestic abuse in a small town in Vermont with long flowery sentences peppered with commas, and hyphens. I like short snappy sentences better.
It seemed to me that Anne Tyler wrote Noah's Compass in a couple afternoons at the coffee shop. That's a compliment. Her story of Liam, a grumpy sixty-one year old twice-divorced man flowed whimsically from one personal conflict to another. Liam seems most distressed by his lack of enjoyment of life's ride. That's sad, but the good news is that as the story progresses, he appears to get the picture. I really liked the story because for some reason, I enjoy grumpy characters.
That's it for tonight.
Soft. I know. Cut me some slack, the Caribbean sun was hot, the fruit drinks very glycemic, and the lack of exercise brain-slowing.
But now I am clicked back in.
JMM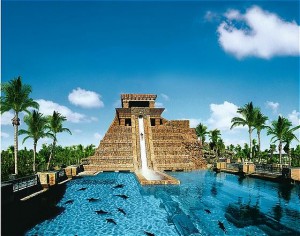 Wait, there's one more tip for you all:
If the water slide is named Leap of Faith, and there's a sign that warns heart patients, you can rest assure that it's a young persons' endeavor. Middle-aged inner ears be warned.