Yesterday I posted the four most important questions to ask your doctor.
Let's apply those questions to a typical scenario:
Whether or not to take an anticoagulant drug for prevention of stroke in the presence of AF.
We need a typical patient. For this example we will pick a typical CHADS-VASC 2 patient.
65 year-old male with treated high blood pressure. (One point on the CHADSVASC scale for BP and age > 65.)
60 year-old female with treated diabetes. (One point on the CHADSVASC scale for female gender and one for diabetes.)
Question 1: What are the benefits of taking anticoagulants?
The only known benefit of the anticoagulant drugs (warfarin or NOACs) in AF is to prevent stroke or what's called a systemic embolism–a clot from the heart that blocks an important blood vessel, say to the kidney or spleen or leg. Strokes are much more common.
The best resource for this exercise is the decision aid from the NICE – National Institute for Health Care Excellence (UK).
The two diagrams below are from the decision aid. The first group of smiley faces depict the risk of stroke without an anticoagulant. If 1000 people with AF and a CHADSVASC score of 2 take nothing, over 1 year, 975 people will not have an AF-related stroke (the green faces) and 25 people will have an AF-related stroke (red faces).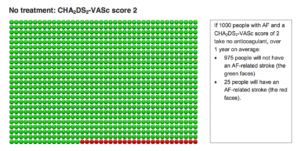 The second diagram depicts the results of taking an anticoagulant for these same CHADSVASC 2 patients.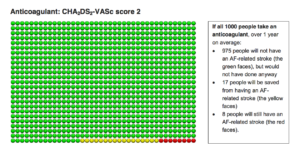 Here, if 1000 people take an anticoagulant, over 1 year, 975 people will not have a stroke, but would not have had one anyways (green faces); 17 people will be saved from an AF-related stroke (yellow faces), and 8 people will still have a stroke (red faces.) (Note: no drug is perfect.)
Another way of depicting the benefits is here: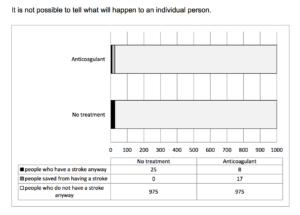 In summary:
The statistical benefit of taking an anticoagulant is about 17 in 1000 per year, or about 1.7%. More than 97% of patients get the same effect–no stroke–whether they take the drug or not.

Question 2: What are the harms of taking an anticoagulant?
The harm from an anticoagulant drug is bleeding. Note that anticoagulant drugs don't cause bleeding, rather, they intensify bleeding that is present for another reason. (Say an ulcer or diverticulitis or kidney stone.)
The risk of bleeding from the drugs can be estimated with an algorithm called the HAS-BLED score. (Pictured to the right.)
We picked a low-risk patient scenario before so let's pick a patient with HAS-BLED score of 2.
Using the smiley faces diagrams, here are the risks of bleeding on and off anticoagulants for a patient with two of the HAS-BLED factors.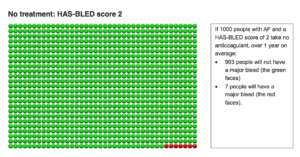 The above diagram shows that if 1000 people with AF and a HAS-BLED score of 2 take no anticoagulant, over 1 year, 993 people will not have a major bleed (green faces) and 7 people will have a major bleed (red faces).
The picture below shows that if 1000 people take an anticoagulant over 1 year, 981 people will not have a major bleed (green faces), 7 people will have a major bleed (red faces), just as they would without an anticoagulant, and an extra 12 people will have a major bleed (the green faces with red crosses).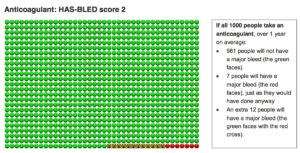 In summary:
The statistical harm from anticoagulation in this group is a net increase in 12 per 1000 or 1.2% increase in bleeding. More than 98% of the patients in this group who take an anticoagulant do not suffer a major bleed.
Question 3: Are there safer simpler options?
Probably not. Many people think aspirin is an option. The thought being that aspirin provides some stroke prevention with a "milder" anticoagulant, less apt to cause bleeding.
The European guidelines strongly recommend against use of aspirin for stroke prevention in patients with atrial fibrillation. They cite no definitive study showing benefit, and plenty showing harm from bleeding. North American guidelines admit that 5 of 6 randomized trials comparing aspirin to warfarin were negative, but one study suggested a mild risk reduction of aspirin versus placebo.
I like to show the BAFTA trial. This study of nearly 1000 elderly AF patients found that the risk of major bleeding was not different between aspirin and warfarin. I, therefore, side more with the European guidelines. Aspirin confers significant bleeding with either no or minimal stroke prevention effects.
4. What happens if I do nothing?
This is easy. For the patients above, who have two risk factors, the green faces depict what happens if they do nothing. The most likely scenario is that they will not have a stroke (approx 97%) and not have a bleed (98%).
The North American AF treatment guidelines grade the strength of their recommendations. They give the strongest rating for shared decision-making surrounding the choice to take an anticoagulant drug or not. It's up to you.
*******
Four caveats:
Caveat 1: One is that doctors think the stroke prevention/bleeding risk tradeoff noted above is a good one. You may quibble with it. You might say the 1.7% risk reduction in the probability of stroke is balanced by the 1.2% increased probability of a major bleed.
What I explain to patients is that strokes are much worse than major bleeds. Bleeding is scary and to be avoided, but bleeding rarely leads to disability like strokes. Most patients who suffer bleeds leave the hospital the same person they were on admission. Strokes, on the other hand, can leave people without speech, thinking, swallowing or movement.
Caveat 2: The numbers listed above vary. For higher risk patients (CHADSVASC >2) the risk of stroke is higher and the risk reduction of anticoagulants is greater. You can click on the NICE decision aid and you will find different scenarios for higher and lower risk patient groups.
Caveat 3: Drs. Quinn and Singer, from the Beth Israel Hospital in Boston, have published a disruptive study that questions the reliability of the numbers posted above. The numbers used in the decision aid come from Northern European registries. What the BI authors showed is that different populations may have different baseline stroke risks–and if that is true, it calls into question the point at which we say the net benefit of anticoagulation outweighs harms. (I wrote about this study. My post was titled: Big Blind Spot in the Guidelines.
Caveat 4: NOAC drugs change the decision a little. Multiple clinical studies have compared NOAC drugs to warfarin. In brief, as I wrote in 2013, the two classes of drugs–warfarin and NOACs–perform within 1% of each other. The slight nod, however, goes to the NOAC drugs.
JMM