Imagine.
Imagine the inflammation that the endurance-athletic community would have been spared?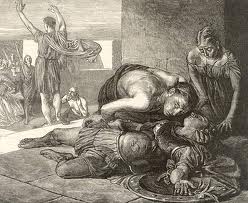 If only Pheidippides had lived. I mean, what was the rush? The battle had already been won. Athenians could have waited another few hours (or days) for the good word on the battle of Marathon. It's not like someone was tweeting in 490 B.C.
Dang it. For if Mr Pheidippides had not suffered sudden death after that long run, the notion that enduring 26.2 miles be so defining might never have stuck. Runners could have hung their 10K times on the self-esteem peg. And those crazies in Hawaii might have decided 112 miles of riding after swimming 2.4-miles was enough.
But I don't have a time machine. There were no AED's in 490 B.C. (And Mr P would not likely have met NCD guidelines for an ICD anyways.)
So humanity is stuck with marathons—an arbitrary, excessive and I believe, dubious way of proving one's mettle. But I've been outvoted. More and more, just running, getting fit, being fast, isn't enough; one must finish a marathon.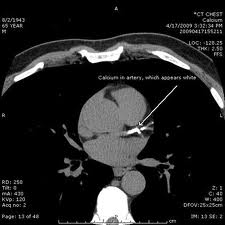 This, despite mounting evidence that the inflammation that comes with the slog—and yes, for the majority of marathoners, it is a slog—may confer a not so healthy outlook. Why all the calcium in coronary arteries, scars in the right ventricle and those Marathon rats—you know, the Canadian rodent equivalents of endurance athletes? (Dear athletes, research Marathon rat studies at your own risk; it's scary.)
These are just the studies. You should ask a regular heart doctor. Each of us can recall vivid cases of seemingly healthy athletes felled by heart attack–in spite of their athletic prowess. Or…is it because of their quest for excess fitness? Could exercise have an upper limit? More may not be better. One would think these concerns, bolstered by emotionally-wrenching reports of runners dying suddenly during competition (or training) would limit the sport's appeal. But this has not been the case; participation in marathons continues to grow.
In fact, one wonders whether press reports on the dangers of marathoning only enhance the mystique?
So large has grown the controversy surrounding the health concerns of marathon running, that Medicine's most prominent journal, the New England Journal of Medicine felt the need to publish an uncharacteristically weak study in last week's edition. In the Cardiac Arrest during Long-Distance Running Races study, researchers from Boston used a registry to compile statistics on cardiac arrests during running events in the US over the past decade.
The five major findings were not that surprising:
Of 10.9 million runners included in the registry, only 59 suffered cardiac arrest. That translates into a miniscule 0.5 per 100,000-runner incidence. Pretty small risk here.
Of the 59 cardiac arrests, 42 people (71%) died. Though this sounds bad, the 29% survival rate is significantly higher than established rates of out-of-hospital cardiac arrest.
Cardiac arrest occurred seven-times more frequently in men. And more events occurred in the latter half of the event.
Medical records were available in only 31 of 59 cases. The causes of cardiac arrest followed well-established patterns: over age 35, there were significant coronary blockages present, and for those under 35, the most common abnormality was thickening of heart muscle (hypertrophic cardiomyopathy).
Most bothersome were 4 unusual causes of death: In 2, low sodium levels were cited, in 1, hyperthermia, and 1 woman's death was presumed related to an anorexic BMI of 14. One thesis here would be that these poor souls ran themselves to death.
The researchers concluded that long-distance running is associated with a low overall risk of cardiac arrest. To highlight the safety of marathon running they smartly made the point that it was twice as safe as college athletics, triathlon and more than ten-times less risky than middle-aged people in the 1970s who started a jogging program. They also emphasized the importance of early CPR–an important finding.
The problem with the study came with its spin:
Like any study published in the NEJM, this one generated a great deal of press, some of which was misleading. For instance, the usually reliable NPR Shots blog began their coverage with this over-reaching sentence
"Running long-distance races isn't going to hurt your heart any more than other vigorous sports," researchers say. Just make sure you're fit enough to attempt the feat in the first place.

Senior researcher, Dr Aaron Baggish provocatively said to theHeart.org, "one of the big take-homes is that marathon running is safe and appears to be very well tolerated."
My take is different:
As the researchers acknowledge, the study had flaws. They admit that the registry may have not captured all the events. For instance, just Googling around for a few minutes turned up 4 sudden deaths in the Detroit Marathon alone. Hmm.
No worries, let's spot the registry a little underestimation. Even if you quadrupled the number of events, given a 10.9 million denominator, the percentage risk remains low. But looking at only race-day events greatly underestimates the inflammation incurred in being a marathoner. People don't just show up and run a marathon; they train, and slog, and inflame, and slog some more… and…so on. As stated, but not spun in press releases, were the limits of what the results could say. From the 'conclusions' section:
"We cannot comment on the risk or outcomes of cardiac arrest in specific populations, such as elite athletes, first-time race participants, or runners with preexisting medical conditions."
Limitations of provocative studies rarely get emphasized in the spin. Readers hear that marathon running is as safe as any other vigorous activity. That's not what the results say to me. What I hear is that when one looks only at the hours of the actual marathon, the number of cardiac arrest events don't look too awful. What these events don't speak to, however, are the cases of catastrophes that occur in the hours marathoners live without a number pinned on, which is 99.99% of their lives. The study didn't look at the weeks and years of prepping for a marathon. Nor did it look at the long-term effects of running many marathons.
Just because we now know that people aren't dying in droves during races, doesn't mean we are any closer to understanding how much exercise is too much. Many questions remain, and I find them interesting–from an inflammation standpoint. Think: some stress is good; too much leads to premature disease.
But…and this is a big but…
As a minimalist cardiologist who believes exercise, not pills or procedures, is the best medicine, it pains me to write anything even remotely negative about exercise. People should exercise regularly. This I believe.
For the idea that marathons need be so defining; that to achieve, we have to inflame so.
For this, I'll blame Pheidippides.
If only he had a bike!
JMM
Two postscripts:
One is some advice: If you are over 35 or have risks of heart disease, it makes sense to see your doctor before embarking on the journey of finishing a marathon. You probably don't need to be radiated by expensive imaging tests. A simple history, exam, ECG, and perhaps a regular treadmill may be reassuring. The data that doing Coronary Calcium scans will prevent death from excessive exercise = Zero.
The second: In the interest of full disclosure, I too was swept up in the allure of the marathon. Chicago 1995—a pedestrian and sufficiently-inflamed 3:08. Qualified to run the 100th Boston Marathon, but never again felt the pull to race that distance. No, I'm not bitter. Just curious.