Whenever a patient asks whether they can exercise, or go here, or there, I liken it to them asking whether they can live life. My answer is always the same…YES. The alternative seems terrible.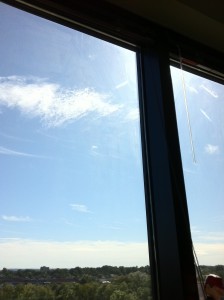 In this regard, moving on in the face of illness, let me share with you the writings of a very famous twitteratti, my friend, Melissa T (or @drSnit). Her post today about "doing sick well" struck my optimistic neurons.
You may wonder, how it is possible; putting sick and well together in the same sentence?  Let me share her writings…
Dr Snit, author of the blog, "Living with Lupus–But Dying of Everything Else," should know. She lives with the disease called Lupus–a mysterious ailment known for its flares of inflammation. These spasms of joint, muscle and overall body aches make a post-ride soreness feel like nothing. It's a tough lot having Lupus.
But yet, Dr Snit stomps forward in life–in defiance of the most inflamed of the inflammatory diseases. She writes stirringly about how…
…it's important to play beer hookey,
or ride a bike, (Yea.)
have goals, (double yea) and…
to acknowledge being sick without worrying about judgement.
And here's my favorite line:
Even if I can barely do much – why shouldn't I? I have learned not to compare my comedy or my writing or my teaching or my scholarship and just allow and love.
Learning not to compare. Doing…if only barely.
Yes good doctor, this can do attitude is indeed highly heart-healthy. Put me down in the belief that seeing the positives is a great start. And then…do…if only a little. Do some more. Give life a good shake and a grin.
I don't have references, but I have the feeling that the human heart likes doing–and isn't much on comparing.
Pedal on!
If only a little.
JMM