Politicians and policy makers are fighting over new health reform proposals.
This debate misses the core problems in US healthcare.
Look at this graph from the Our World In Data website: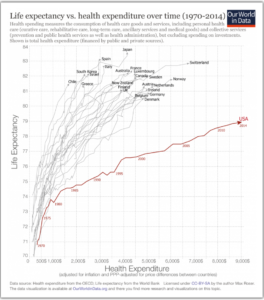 It shows that Americans pay too much for lousy health outcomes.
Fixing the problem on that graph should be the focus of reform.
I am no policy wonk but here are some obvious problems and potential solutions with our delivery system:
I – Profit-driven healthcare must go. As long as health is big business, it will be impossible to control costs.
Fee-for-service (FFS) payment models favor doing more things to people. The more you do, the more you and your employer (usually the hospital) make.
Some might argue new payment models are moving away from FFS and towards value-based compensation. These new payment reforms are a joke. First, quality measures do not reflect real quality. Most doctors who touch patients feel quality measures reduce quality. Second, the new models favor gaming the system. In the past, an AF doctor would document AF as the problem addressed. Now, most AF doctors will list numerous other diagnoses, such as overweight, stress syndrome, high blood sugar, hypertension, sleep apnea etc. Why? Because the new game is to make patients seem complicated.
II – Speak Hard Truths. Someone needs to say that our country cannot afford to keep delivering low-value care. Doctors know what low value care is, but we keep delivering it because we are paid to do so, and because people conflate getting more care with good care.
The VA healthcare system takes a lot criticism but studies show their outcomes are similar to hospitals in the private sector. That's not surprising because when you have to care for large groups of people with a fixed amount of money, you make choices: the sick get needed care and you burn less money on low-value care.
It's important here to say that less care is not always the right choice. Sometimes more care is the right call. The problem now is that wasteful care of the haves make it less likely that the have-nots get essential care.
Our lack of courage on making hard choices leads to inequities of health outcomes among the less fortunate. That is an ugly blemish on our country.
III – Take better care of the dying. End of life care in the US is a mess. Cardiologists and cancer doctors could help the situation because so many people die of heart disease and cancer. Atul Gawande wrote that hope (for the tail of the bell curve) is not a plan.
If people knew the reality of their illness and the reality of their therapies, more would choose care that centered on comfort. When people die slowly attached to machines in the hospital or in nursing homes, everyone loses.
We don't have to deny care to the elderly—just tell them the damn truth. The default should be that death is normal. Yes, we would like to delay it, but this comes with trade-offs.
IV – Slow the growth of non-caregivers. The complexity of our healthcare system drives the need for administrators. Numerous studies have shown that doctors spend increasing chunks of time doing paperwork, billing and non-clinical care duties. That's a problem because it decreases access to care, distracts the caregivers and adds cost.
If doctors were salaried, and there was no need to game the billing systems, we could use those extra hours talking with patients rather than just ordering tests on them. Healthcare reform measures should decrease complexity so doctors and patients can spend more time together.
JMM