A new study published last week in an open heart journal changes the conversation about how patients and doctors think about and discuss preventive therapies–such as statins.
Dr. Richard Lehman may be the smartest doctor on Twitter. This is what he said:
This is a game-changer https://t.co/WgGdLlodbL

— Richard Lehman (@RichardLehman1) March 20, 2016
Most discussions about using statin drugs focus on a 5-10 year period. That's not the right way to discuss these drugs. When we take a statin drug (or screen for cancer, or any other preventive intervention) we do it to live longer–not just 5-10 years.
Here is a link to the (free) study. The editorial is here.
Researchers from the UK used national registries to calculate death rates. They then devised a mathematical model to calculate the probability distribution of lifespan gains from statin interventions. They used the well-accepted relative (CV) benefits of statins of 20-30%. In the third part of the study, they surveyed random people in train stations, asking how they would judge potential benefit from the drugs.
Before I tell you the results, let's consider how we currently explain statin benefits. In primary prevention, the absolute benefit from a statin drug (or cancer screening) is small. How small is a matter of debate, but what opponents to these therapies rightly say is that most people who take these drugs get no benefit. (If the NNT is 50, 49 get no benefit.)
The problem with that strategy is we use average estimates of benefit and translate them to everyone who would take a statin. You know that is not how life works. You could start on a statin, and come down with cancer, or get hit by a bus, or die from pneumonia the next year. Then the protective effects of statins never helped you.
The researchers sought to figure out the probability that statins (or any other prevention strategies) would help you over a lifetime. They used what's called a Monte Carlo simulation. The model gives a range of probabilities for life-expectancy gains for each individual on primary prevention. "MCS is like throwing multiple dices at the same time – it is astrology with a dice." The Monte Carlo simulation is explained well in this blog post. (Credit to Dr. Saurabh Jha, @roguerad on Twitter.)
The findings of this study changes everything.
Lifespan gains are concentrated within an unpredictable minority. For example, men aged 50 years with national average cardiovascular risk have mean lifespan gain of 7 months. However, 93% of these identical individuals gain no lifespan, while the remaining 7% gain a mean of 99 months. See Figure to the right>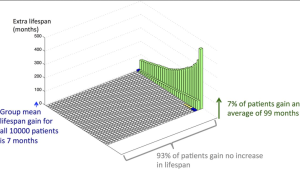 Another finding was that younger people benefit more from statins. That's because, even though they are lower risk, they have longer to accumulate gains. Likewise, an older person has a higher risk of death from a heart attack, and in the old way of thinking, would benefit more from statins. This new model, however, predicts that an older person's benefit would be lower because of competing causes of death.
Here is a nice quote from the editorial:
The study highlights the problem of focusing on disease-specific mortality rather than total mortality in the evidence used to recommend various medical interventions. The two measures are taken as similar but they do not necessarily follow each other as well as researchers would sometimes like to think.
The third finding from the study was that when people were asked what they preferred, they chose the lottery approach to lifespan gains. "Our survey illustrates that people often prefer a small chance of a large benefit over the certainty of a small benefit, even when the mathematical average gain from the former is smaller."
This is my first crack at translating this important study. I learned of it this weekend. This changes the way we will talk with patients, and among other doctors.
Look at that graph: 93% of this group gets no benefit but the 7% gets tremendous benefit. It's like a lottery to see if you will be the one who benefits.
One important weakness of this model, which was discussed in the paper, is that it only counts benefits of intervention. Statin drugs and cancer screening clearly have possible harms.
Stay tuned.
JMM