My friend and colleague William Dillon (@wmdillon) is an interventional cardiologist. He and his wife Sally have started a non-profit foundation called Start the Heart Foundation. Their goal is to improve survival of patients who suffer cardiac arrest in Louisville Kentucky. The odds of surviving cardiac arrest here in Louisville are dismal: more than 90% die.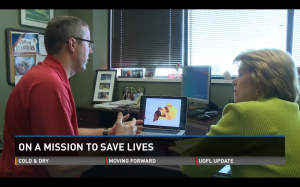 Start the Heart Foundation uses a novel means to achieve their goal. They send premedical student interns to the community to teach hands-only CPR. The youngsters go to schools, corporations and community centers. They teach and teach and teach.
The local TV station WHAS11 aired this story yesterday. Veteran journalist Rachel Platt did a fantastic job. The coverage includes a man whose wife used CPR to save his life.
There is a lot to like about the Start the Heart Foundation. The organization is gaining traction in the community. We look forward to a day when our city can boast cardiac arrest survival rates similar to those in Seattle Washington or Rochester Minnesota.
The website has a button for tax-deductible donations.
One closing note: People who learn CPR are most likely to use their skills on a loved one. That's big.
JMM
Full disclosure: I am a board member of Start the Heart Foundation