The thing about US healthcare that bothers me most is the waste: the nuclear stress tests on demented patients in diapers, the MRIs for every case of back and knee pain, the egregious pre-op tests for low-risk surgeries, the mega-workups for simple cases of AF, the disease mongering in the name of prevention, and most tragically, the replacement of simple bedside observation with expensive scans and labs. Hardly a day passes that I do not see at least one wasteful thing done in the name of good patient care. Not fraud, just extra stuff–the BS.
It's weird; in the US we are used to spending a lot and getting a lot. But it is the opposite in healthcare. And so few seem to notice. It is as if wasteful care is becoming normal, like obesity.
It doesn't have to be this way. There are things that can be done–together. The first step is seeing the problems that can be fixed. One is surely the nonsense–the waste.
Here are three recent exhibits of our healthcare system in action. I think they go together well.
The first exhibit is this Danielle Ofri NY Times piece entitled Adventures in 'Prior Authorization.' Dr. Ofri is an academic internist and a talented writer. She describes—as if it were new news—the consternation that all of us feel when we advocate for our patients by arguing with untrained cubicle people from insurance companies. She gets the maddening situation exactly correct. Namely it is this: I get that you, the insurance company, need to control costs, but I am one of the good docs, and this patient is doing well with an atypical regimen, so leave us alone.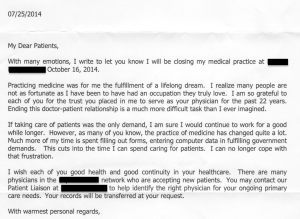 The second exhibit is this letter that a patient showed me. The retiring doctor is one of the best internists in town. She is smart, wise and compassionate. She was a leader in the medical community. She is not alone; experienced doctors are leaving in droves. Some are retiring completely, some are moving to administration, and some are moving to different careers.
The third exhibit is this research letter in the Journal of the American Medical Association. In it, researchers reported an abrupt decrease in expensive nuclear stress tests after 2006. The distress comes when we think about why this would be. Likely factors include the publication of "appropriate use" criteria, enhanced insurance company scrutiny and a decline in reimbursement for nuclear imaging. None of these causes are flattering to us as a profession. First, good doctors should not need appropriate use criteria. Second, if you look at this data from the perspective of an insurance company (our chosen system), you can see why they badger doctors. Because it works. Yet the most disturbing reason for the abrupt drop in expensive testing is that reimbursement affected patient care. That is awful.
You can see how we (patients and doctors) are in this together. The angst described in Dr. Ofri's lament is cumulative. Doctors can take these in the singular; but unremitting extraction of joy from the job is toxic. The inflammation builds to a breaking point. Then the people we most want in the system, the experienced, the wise, the caring, leave patient care. The plight of experienced doctors, therefore, is important. One might argue that a steady supply of young people will be available to replace the early retiring docs. Maybe. Maybe not.
So what can doctors do?
My obvious answer is leadership. We are the professionals trained to deliver care; we are the quarterbacks. One way we can lead is to have the courage to face the lessons of the nuclear-stress-test debacles. Of course we were doing too many lucrative procedures. The evidence is clear: in the last decade we have done fewer cardiac tests and procedures and outcomes are better.
But there is more to these stories than just misplaced incentives and greed. A lot of the waste stems from our lack of skepticism concerning the evidence. We were (and still are) too susceptible to hype; too fast to accept expert opinion. History teaches us a lot. We can learn from the botched dronedarone and dabigatran roll-outs, the niacin and non-statin-drug failures, and surely one could have predicted that stenting asymptomatic coronary disease would not improve outcomes–as if a wire cage could treat the systemic acquired disease of atherosclerosis.
The final thing I will say to caregivers is that even with the nonsense thrust on us, and there is a lot, we can still look up from our white screens and see and hear our patients. For if we do that, the solution is often in front of us rather than on an expensive MRI scan or a battery of tests. We can do better; I know I can. My friend, and healthcare leader, Dr. Jay Schloss offers eight useful tips for caregivers. His words are like an elixir for our inflammation.
What can patients do?
Caregivers are only part of the solution. Patients, too, have a role. The new normal is to be an active participant in making medical decisions. Patients should know that more testing and more care is rarely the best care. I realize that sounds like a big statement, but it is important, as much of what drives doctors' decisions are your expectations.
I often tell patients that they don't "need" anything I have to offer. Need is the wrong verb. Medical and surgical decisions are preference-sensitive. Yes, there may indeed be benefit from treatment or testing, but there also may be harm. There are always tradeoffs. That bears repeating: Always tradeoffs. The decision to get a screening PSA or mammogram has the tradeoff of possibly being exposed to unnecessary life-altering surgery. The decision to not discuss end-of-life goals with your loved ones and doctors has the tradeoff of possibly being exposed to death-by-ICU.
The final thing patients should know is that delivering quality healthcare is not at all about convenient parking or hospitals that look like luxury hotels. It is an American embarrassment that we fight about having enough money to cure Hepatitis C while we burn money on luxury accommodations in hospitals. You can help stop this outstandingly bad trend, as much of what drives healthcare policy is your expectations. In healthcare, convenience is overrated.
Reducing the waste. Changing expectations. Preserving the doctor-patient relationship. These are things patients and doctors can do together.
JMM