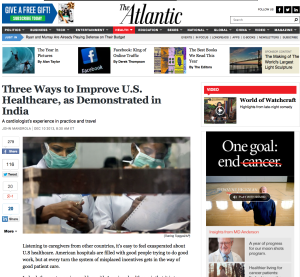 Some things are hard to see until one leaves his or her normal surroundings. For American doctors, especially procedure-based doctors, it's easy to get used to the wastefulness and largesse of delivering care.  Then you travel. You go to another healthcare system and are left to gasp. An AF ablation 'costs' 100,000 in the US, while the same procedure in Germany costs 10,000$? It's cheaper still in India. How could this have happened to us? Can we do better?
My wife says it's burdensome to be clear seeing about some things. She was talking in the context of seeing the folly of futile care at end-of-life. I'm talking about seeing the wastefulness of US healthcare. Everyday, most American doctors walk through beautiful hospital lobbies, attend to patients in luxurious hospital rooms and do procedures with the most expensive equipment. Then we head to the office where we accept our role as data-entry clerks, mindlessly checking boxes on computers–all in the name of providing quality care. Noticing this stuff, and having to just carry on, gets burdensome.
I'm at a point in my life where ambling along without noticing stuff is not possible. A few weeks ago, I read an article in the Washington Post promoting the work of two business professors who had studied 5 successful Indian hospitals. What struck me was the means by which these hospitals achieved quality care–and at fractions of the cost that we spend. It was all about the how.
The best topics for essay are ones that have inherent conflict. Here we have the contrast of common-sense reforms of these 5 Indian health systems compared with the bloated arrogant US healthcare delivery system. From their hub and spoke design of hospitals, to their embrace of task shifting and frugality, these Indian hospitals teach us that if we could muster the courage, US healthcare could do better. We could deliver better care for a lot less. Applying common sense to the American system of healthcare is not easy. It will take courage–lots of it. Isn't it reasonable to start by speaking candidly about the problems?
My essay was published yesterday on TheAtlantic.com. I hope you want to read more. The title is : Three Ways to Improve U.S. Healthcare, as Demonstrated in India.
Also, this is my first ever essay on the Atlantic. (A big day for a blogger.) Feel free to share it with your friends or leave comments over there.
JMM